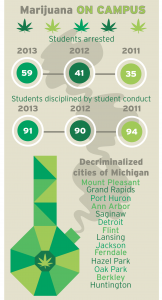 All forms of marijuana are prohibited in the residence halls and on any property controlled by Ferris State University.
In 2008, voters chose to legalize medical marijuana in Michigan and while there is a push to fully legalize for recreational use, federal law still prohibits the use of the drug entirely.
So what happens when a Ferris student is medically approved to use marijuana, but lives in the residence halls of a federally funded institution like Ferris?
"Ferris State University is a recipient of federal financial aid, which requires us to abide by federal law where marijuana is still prohibited," said Erik Wessel, Ferris Director of Student Conduct.
To this, attorney C.L. Lindsay says, "It's a mess."
Lindsay is founder of the Coalition for Student & Academic Rights. Through this non-profit network of lawyers, Lindsay has been free legal advocacy and counseling to students and professors for over 15 years. He spoke at Williams Auditorium on March 31 about issues concerning alcohol and drug usage here at Ferris.
"Marijuana is going to be legal everywhere soon, but this is going to be a weird, miserable in between point," said Lindsay.
How do medical marijuana patients on campus deal with Ferris' marijuana prohibition?
"They don't," said Lindsay. "Colleges exist outside of the law and they can do almost anything they want."
Card-carrying medical marijuana patients can't keep prescriptions in the residence halls or in their vehicles. The medical card prevents students from being charged with possession by law, but on campus, marijuana is still prohibited.
There isn't much precedent for a student being able to fight this, either. Lindsey explained that with colleges and universities, courts usually favor a legal doctrine known as "academic abstention," where judges tend to act in the interest of academic institutions.
"Judges are really gun-shy about going against the wishes of an institution," said Lindsey. "So it would be hard to win against a college anyway, and really hard to get medical marijuana approved in the residence halls."
In Michigan, 14 cities have voted to decriminalize marijuana. While marijuana remains illegal in these cities, an offender is often ticketed and fined a small amount. In Big Rapids, marijuana has not been decriminalized and punishments can include fines upwards of $1,000 and jail time.
For Ferris students, however, marijuana is sometimes handled differently than its schedule 1 drug classification would suggest.
"Whether an officer writes a ticket and sends a student to a district court or if they do a student conduct referral, we leave it to the officer's discretion," said Captain Jim Cook, Assistant Director of the Ferris Department of Public Safety.
Cook also said there is no set amount of marijuana that can surely merit an arrest. Officers look for quantities of a drug that would prove a student's "intent to sell."
Those familiar with the Torch's "On the Record" crime report may observe that many cases involving marijuana don't result in a ticket, but rather a referral to the Office of Student Conduct. In the student conduct scenario, students are usually given a warning or required to complete "Marijuana 101," an online drug education program.
In fact, Ferris reported in 2013, police handled 150 drug-related complaints. 59 of them resulted in arrests while the other 91 were referred to the Office of Student Conduct for disciplinary action.
"If we wrote a ticket on every marijuana possession or use, the courts would be jam-packed," said Cook. "A lot of things go through an officer's mind in these situations. We're human and nobody wants to be the hanging judge. We understand 'college life,' if you will."
Cook does not, however, want to see marijuana legalized or decriminalized.
"The goal of the conduct process is to provide opportunities for education and reflection while ensuring a safe community," said Wessel. "That said, it is important for the student population to understand the far-reaching potential impact of the decision to use or possess a controlled substance on academic progress and future employment."
Marijuana is currently decriminalized in these Michigan cities: Mount Pleasant, Grand Rapids, Port Huron, Saginaw, Ann Arbor, Detroit, Flint, Lansing, Jackson, Ferndale, Hazel Park, Oak Park, Berkley and Huntington Woods.
Ferris' full drug policy can be found in the Code of Student Community Standards, Section IV B, available through the Office of Student Conduct at ferris.edu.