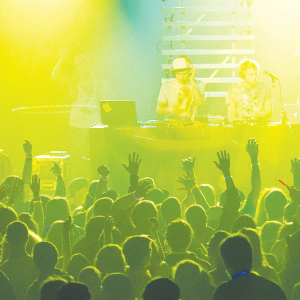 EDM fans and music lovers on campus rejoice; this year's Turn up the Good is upon us.
"This year, headlining for Turn up the Good will be Nortroniks, a DJ artist based out of Grand Rapids, along with Ty Beat, who is also from Grand Rapids, and both of them include live drumming into their performance, along with their electronic music. Then opening is GOSH PITH, which is a duo from Detroit," said Jordan McNaughton.
McNaughton is a sophomore music industry management student who is this year's booking agent for Turn up the Good, which is Ferris' annual electronic music concert. This is the fifth year that Turn up the Good has ran.
This year, the concert, which will have an outer space theme, will take place at The Gate, on Friday, April 17. The doors will open at 8:30 p.m. and the music will start at 9 p.m. Tickets are five dollars in advanced and ten dollars at the door.
"It will feature electronic music in general, a lot of dance and dubstep," said McNaughton. "Some of them have a trap influence. A lot of our artists this year mix a lot of different sounds and genres, which I think people are really going to like."
"You can buy tickets from any music industry management student, in our office which is BUS 124, at The Gate, or online through our website [www.musicindustrymanagementassociation.org]," said McNaughton.
A good turnout is expected for this year's Turn up the Good, especially with last year's turnout.
"Last year we had over 900 people show up," said McNaughton, "and we're expecting to match or surpass that this year. We're also going to be in the IRC a week before the show, so come check us out. We're going to have a spaceman in the IRC, it's going to be pretty cool."
"Ultimately, it's just a lot of loud, fun music that people can dance to," said McNaughton. "People are just looking to have a good time, and they can definitely expect to have one this year."
For more information, check out the Turn up the Good Facebook page or www.musicindustrymanagementassociation.org.