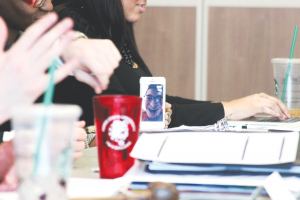 Via Skype from Germany, Wayne Bersano was introduced as the new Student Government President.
Bersano is a sophomore in the Resort and Hospitality Management program and has been studying abroad. Even though it was 1:00 am in Germany, Bersano was present at the meeting on his campaign manager's phone, Chauntel Wooten.
A total of 633 students voted in this years Student Government presidential election. This is over a 100 percent increase from the 272 students who voted last year. Bersano won the election with 379 votes, while his opponent, Dylan Carpenter, had 251 votes.
"I just want to say thank you to everyone who was involved in the election," said Bersano from Wooten's phone screen. "I hope everyone is looking forward to next year because we are gong to help make Ferris great."
Wooten, formerly the Director of Internal Assessment, organized and executed Bersano's campaign since he was not present on campus during the election.
"I want to congratulate Wayne Bersano on his victory, and Chauntel and [Bersano's] team on all of their hard work," said current Student Government President, Andrew Kalinowski. "I believe he will do an exceptional job and I'm very excited to see his team recruit the student body and the rest of the general assembly."
In terms of the election, Kalinowski said, "Both candidates did an exceptional job campaigning."
Bersano will be inaugurated via Skype at the Student Government meeting on April 20 meeting. Bersano will start running the meetings as president on April 27.