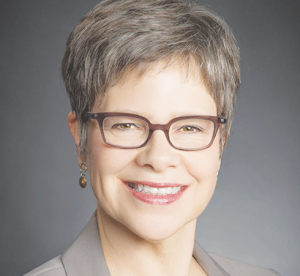 Leslie Bellavance has been named president of Ferris' Kendall College of Art and Design.
Bellavance currently serves as dean and director of graduate programs at the School of Art and Design at Alfred University's New York State College of Ceramics. She will succeed interim president Oliver Evans officially on July 1.
Jenelle Grenier, a junior illustration major at KCAD, looks forward to having a new president. She asked this of Bellavance: "How do you see your strengths aligning with KCAD's mission and core themes and how would you go about inspiring and motivating us around a common vision?"
"When I visited the KCAD campus last month," answered Bellavance, "I perceived a commitment on the part of faculty, staff and students to the key elements of the KCAD mission of developing leadership in art, design, art history and art education as well as providing learning experiences that foster individual development and civic engagement."
"This is also a moment for KCAD, as a community, to look to the future and enhance its strengths," said Bellavance.
Bellavance explained that, as president, she would like to initiate a strategic planning "conversation" that would take place campus-wide. That, said Bellavance, will focus KCAD on a common vision. KCAD's Strategic Planning and Resource Council recently distributed a survey to students as the first step in this process.
The position of president was chosen by a presidential search committee, comprised of 12 Kendall faculty and three Grand Rapids community members. The committee formed after the unexpected resignation of former KCAD President David Rosen in April 2014.
"[Bellavance] brings a national reputation, a depth of higher education experience and an appreciation for the Kendall mission of preparing students for careers and leadership positions in a wide range of art and design fields," said Ferris President David Eisler. "She has both the background and skills to help advance not just Kendall, but the broader arts and design community in Michigan."
Since her appointment, Bellavance has had meetings with Eisler and has also met with the Ferris President's Council.
"I am very impressed with the leadership at both KCAD and Ferris," said Bellavance. "My new position is two-fold; I am president of KCAD and vice president of Ferris. In these roles I intend to strengthen the relationships between the two institutions and look for opportunities for collaboration that will benefit both."
Bellavance received a Bachelor of Fine Arts degree summa cum laude from Tyler School of Art at Temple University in Philadelphia as well as a Master of Fine Arts degree from the University of Chicago. She has 35 years of experience in higher education, including 24 years with University of Milwaukee-Wisconsin as director of graduate studies in the Department of Visual Art, interim associate dean of the of the Peck School of the Arts and professor of Visual Arts.
Bellavance is an artist herself, whose work has been widely exhibited across the United States and Europe. For two summers, she taught painting at Ox Bow School of Art in Saugatuck, Michigan.
"It was a great introduction to the beauty of western Michigan and over the years I have visited there in the summers," said Bellavance. "I am very excited about moving to Grand Rapids."
For more information on Leslie Bellavance and her artwork, visit lesliebellavance.com.
For more information on Kendall College of Art and Design, visit kcad.edu.