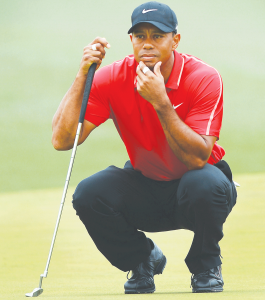 As a devoted Tiger Woods fanatic for as long as I can remember, this is hard to say, but Tiger Woods is no longer the most important athlete in golf.
Now that title belongs to both Rory McIlroy and Jordan Spieth, two young superstars who have both won major championships. Rory already has four to his name at the tender age of 25, and Spieth just won the Masters Tournament in historic fashion this past weekend to grab his first at the incredibly young age of 21.
He did it in Tiger-like fashion, distancing himself early and keeping the mistakes to a minimum. He broke numerous records and was the tournament's first wire-to-wire winner since 1976.
All that being said, Tiger did compete at the Masters this year, finishing in a tie for 17th in his first tournament in over two months. Considering he shot the worst round of his career in February, this was a strong showing.
There were flashes of vintage Tiger, fist pumps and birdie putts, but the fact still remains that the upcoming U.S Open will mark the seventh anniversary of his last major win. He now sits on 14 major titles, four shy of Jack Nicklaus' 18, which is the benchmark Woods set for himself as a young man.
But ever since Woods won the U.S Open in 2008 with a torn ACL, things just have not been the same. He blew a lead in the final round of the 2009 PGA Championship to little-known Y.E Yang, and his personal life unraveled later on that year as his extensive extramarital affairs became public.
Since then, besides a successful five-win 2013 season, the question has been asked over and over, is Tiger back? And although he played well at Augusta, a course so pristine it makes the Ferris State Katke course look like a cow pasture, his hopes of surpassing Nicklaus' record seem to be dimming.
A few years ago, Tiger Woods on the decline could have been a death sentence to a struggling golf industry. Ratings, attendance, and interest in the game are all way higher when Tiger is playing, but it seems now that there are golfers capable of carrying on the torch.
Golf is the only sport where fans don't root for the underdog. It's all well and good if a nobody is on top of the leaderboard early in the tournament, but come the back nine on Sunday, people want to see their heroes succeed. It is a sport that needs superstars for people to be interested, and two new ones have arrived in McIlroy and Spieth.
McIlroy, a candid Irishman, is capable of blowing the field away when he brings his A-game, and Spieth, the talented Texan, just became the second youngest Masters Champion ever. Both, if they stay healthy, have decades ahead of them of competing for titles and major championships and both could end up going down in history as two of the greatest the game has ever seen.
Although Tiger Woods has done things in the game of golf that have never been done before, such as winning four straight majors, it seems his time at the top of the game is over. He is no longer invincible, and the kids who used to watch him in wonderment are now beating and out-driving him. Woods' fall from excellence is still a significant blow to the PGA Tour, but with young, marketable, and likable superstars such as McIlroy and Spieth to take up the mantle, he has left the Tour in good hands.