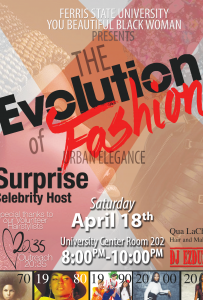 You Beautiful Back Woman (YBBW) is back for the 25th annual fashion show, but this year they're giving Ferris a new kind of throwback.
"This year the theme is Evolution of Fashion: Urban Elegance," senior in sports communication and the vice president for YBBW Shelby Taylor said. "We will be showcasing fashion trends from the 1970's to the present."
Past themes have included "Seven Deadly Sins" and "Fashion in New York."
According to Taylor, the YBBW fashion show has been a success for 25 years because every year there are more ideas due to the ever-changing fashion trends.
YBBW members are excited to show how history repeats itself and old fashion trends are coming back into style.
"This year will be different because we won't just be modeling," Eligah said. "We will have dances in between each scene, and that's my favorite part about this year's show."
According to Eligah, planning and rehearsals typically start the semester before the show to allow time to plan and organize all the room and model bookings as well as perfecting the show.
The organization must have put the time to good use as they have kicked things up a notch.
"I don't want to give too much away because it'll ruin the surprise, but the audience will be blown away with this year's show," Taylor said. "This year, we are also showcasing our creativity because in the past we usually had performers for in between the scenes, but this year it will be the models dancing."
This will also be the first year that they have professional hair and makeup stylists volunteering on the day of the show.
"One secret I will give away is that there may or may not be a celebrity host," Taylor said.
"This show also gives other organizations on campus the opportunity to get involved as well," political science junior and general member of YBBW ShanTel Eligah said. "We want to get more women involved from every organization."
According to Taylor, the last scene will be "Rep Your Org," giving the audience the chance to show some pride and demonstrate why their RSO is unique.
The 25th annual YBBW fashion show will take place in room 202 of the University Center on April 18th at 8 p.m.