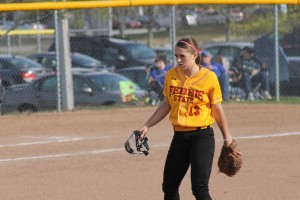 A high fly ball to center field sunk, Ferris junior center fielder Taylor Verbic settled under it, and almost nonchalantly, ended a sweep and a no-hitter.
Sure, it wasn't flashy. Ferris State played solid defense, that was interrupted a few times by errors (3), and Thompson at one point loaded the bases, finishing with two walks on the day.
In the end, it was a combination of an effective "Pitch-to-contact," and hope for a strikeout (Thompson finished with four) here and there.
Thompson, the redshirt sophomore, moved to 5-5 on the season with the 5-0 win. It was her first career collegiate no-hitter.
"Just doing my job," Thompson said. "I had great defense behind me and it was a good team win."
Behind Thompson, left fielder Sam Bates made a semi-dive/slide catch early in the game to prevent trouble that the Lakers had brewed up.
The offense was serviced by a five-run second inning after Thompson dug herself out of harm's way. Ferris junior right fielder Rachael Gabrielson knocked home a run as the locks opened on the team from Sault Sainte Marie.
Ferris also won the first game 8-2, when Verbic went off for two RBI's on three hits with a steal. Verbic knocked in another run in the second game to bring her daily total to three.
Thompson listed herself as available for tomorrow's home double-header with Grand Valley State.
First pitch is scheduled for 1:00 pm in the first game and 3:00 pm for the second.