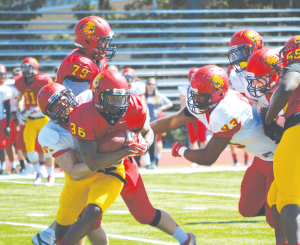 On a beautiful April day, the Ferris State football team hosted their annual Spring Game at Top Taggart Field.
Excitement was high as the stands were filled with Big Rapids residents and Ferris students. Many students were wearing yellow Big Event shirts, as the Big Event took place earlier in the day and was capped off with the spring game.
The offensive players wore crimson and the defensive players wore white in the competitive inter-squad scrimmage.
The coaches opted to use a running clock for the 12-minute quarters and employed a modified scoring system.
For offense, a touchdown was still worth six points, an extra point one, and a field goal three. The wrinkle was that a big play (15 yards or more) was worth two points and getting two straight 1st downs was worth two points as well.
For the defense, a touchdown was worth seven points, a turnover six, a sack four, a tackle for a loss two and forcing a three and out was worth two points as well.
The game was relatively close throughout, but the offensive crimson team came out on top, winning 32-26.
This game was never about the score though, it was about enjoying the beautiful day and showcasing what the Bulldogs had worked on throughout their spring drills.
Jeff Thorne, a 30-year resident of Big Rapids, and Head Coach of the Big Rapids Crossroads Academy was particularly enthused about the game.
"Probably the best part is it gives us the opportunity to see the whole team, really see what's coming up. The team is pretty much set," said Thorne. "You might have some incoming freshmen that really make a spark in the fall but for the most part you get a nice preview of what's coming up in the fall."
Thorne boasts optimism for the Bulldogs chances for next season following up their undefeated 2014 campaign.
"Well they say success breeds success. I think they're going to build on the undefeated season. They were disappointed they didn't go further in the playoffs so I think that's definitely the goal," Thorne said.
From a student spectator's perspective, the game was purely about enjoyment.
"It's just fun to watch Ferris football again, even if it's not a real game. It's a beautiful day and I'm really looking forward to the season actually starting," Sophomore Ciara Swinson said.
Star quarterback and team captain Jason Vander Laan did not play a single snap, but he did showcase his Harlon Hill Trophy at halftime for the attendees, which is the NCAA Division II equivalent of the Heisman Trophy.
Anticipation and expectations are both sky-high for next season, which kicks off at home Sept. 12 against GLIAC foe Northwood University.