The Big Event needs big leadership, and this year, Amanda Jewell provided that to the annual public service event.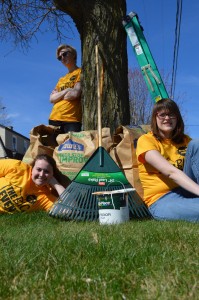 The Big Event started with a team check-in and the opening ceremony at 8:45 a.m. on April 18. As volunteers gathered at Top Taggart Field, the weather was warm and the sun was shining. Participants went to local homes and did yard work, such as painting, trimming hedges and raking leaves.
Amanda Jewell is a 22-year-old Health Care Systems Administration major at Ferris from Marion Springs. Jewell knew she wanted to help with the success of the Big Event after volunteering for it two years ago with her sorority, Lambda Kappa Sigma.
Jewell joined Student Government as a representative so she could get more involved with the event.
"I became involved with the Big Event because I truly enjoy helping people. I was appointed to be the director in the fall of 2013 and I was reappointed to be the director again for this past Big Event," said Jewell.
This year, there were 1,631 students that participated in the Big Event. That is the highest number of individuals to participate since the Big Event started at Ferris in 2007.
"I think more students participated because they now are understanding the impact it has throughout the community. It's the largest student run philanthropic event in the state of Michigan, so younger individuals come to campus knowing about it already and want to participate," said Jewell. "I think organizations really encourage their members to participate, which boosts our numbers as well."
There is an extreme amount of planning, year-round, that goes into the Big Event and Jewell says the outcome is well worth it once she sees the impact the event has on the community. When she isn't planning the Big Event, Jewell likes to spend time with family and friends and enjoy the outdoors.
When asked how much time and effort she puts into the Big Event, Jewell said she couldn't even calculate, or take a guess. "The Big Event is successfully completed by working year-round on tasks and other details that make the event possible. It is quite time consuming but worth it in the end."
The Co-Director of the Big Event, public relations junior Kaitlyn Patrick, says she was very lucky to work alongside Jewell.
"I was very fortunate to have Amanda as a mentor to mold me into the next Director of the Big Event. She has put so much heart into this project and I truly think those types of leaders that hold passion are what make an event great, especially the Big Event at Ferris," said Patrick.
"I love the Big Event at Ferris because it allows students to show their true appreciation and gratitude to Big Rapids residents. Planning the Big Event allows me to speak with kind individuals who are more than grateful for the help they receive," said Jewell. "It just warms my heart to hear an elderly woman explain how much the little bit of help we provide impacts her life. I really love to help others and the Big Event is the perfect opportunity to make such a difference."