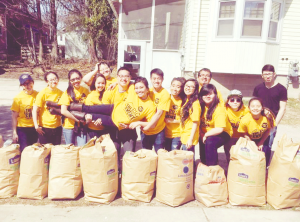 Asian American motivational speaker (and American Ninja Warrior finalist) Hoan Do will be coming to Ferris today in honor of Asian Pacific American Heritage Month.
"He'll do a motivational speech and talk about experiences on how to succeed in life as Asian Americans since we are a smaller minority here in Big Rapids," said diagnostic medical sonography senior and president of the Asian Student Organization (ASO) Erica Chau.
Asian Pacific American Heritage Month lasts the whole month of May and is a time to remember and commemorate Asian Americans. However, since Ferris gets out of school in early May, there is generally one big event at the end of April to celebrate here.
"It's really just time for us to celebrate how our immigrants came here, which is really important for us because if they didn't come here, we wouldn't be here either," Chau said.
ASO is also going to prepare and serve authentic Asian food after Do's speech. By now, students might have grown tired of eating at the Rock all year, so this is a great opportunity for us to try something new.
"People will get a feel for what true Asian dishes are like, not like Chinese food from the UC or stuff like that," Chau said. "So it'll be nice to be cultured with food as well as just our culture in general."
Pre-pharmacy sophomore Brian Nguyen said this event will be a good experience for people to hear of the challenges Asian Americans face and how they adapt to them.
"In high school, I played a lot of sports and did a lot of activities," Nguyen said. "And on the football field, the wrestling mat, and the track, people would sometimes be like, 'You don't belong here, go back to studying,' and things like that. So that's just something I've seen—just how a lot of things are underestimations and stereotypes."
ASO gives Ferris Asian Americans a place to come together through their commonalities and differences and create positive relationships and experiences. Unifying cultures "through the promotion of pride and awareness" is how Chau explained ASO's goal.
"Since a lot of our members have very traditional parents, there are problems that they would face with their families in general that most people wouldn't understand, so it's also nice for that," pre-pharmacy sophomore and ASO member Caitlin Loc said.
According to Nguyen, many Asian Americans actually experience exceptional closeness with their family compared to other cultures.
"Something about my culture I've realized is that we are extremely close to our extended family compared to normal culture," Nguyen said. "I absolutely love that I know my fourth cousin like a brother."
Ultimately, Ferris' Asian Americans love their culture and want to share with the rest of the campus all it has to offer.
"I embrace it, and I love who I am and what I do," Ngyuen said.
Ferris' Asian Pacific American Heritage Month celebration event will be April 22 at 6:00 p.m. in IRC 120.