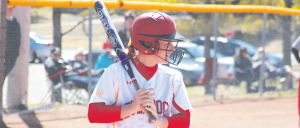 The Ferris State softball team is getting some very good play out of freshman Sam Bates.
Bates, who plays both outfield and pitches for the team, has made an immediate impact in her first season in a Dawgs' jersey. The freshman phenom has played in all 46 games for Ferris this season, and she has played well.
Bates leads the team in almost all hitting categories. She has the highest batting average on the team at .308, has an on base percentage of .408 and a slugging percentage of .508, all of which are team highs. It doesn't stop there though, Bates leads the team in RBI's with 24, walks with 16, and has hit 14 doubles, which is seven more than any other Bulldog on the roster.
Bates said she came to Ferris because she liked the environment and because they have one of the best criminal justice programs in the state.
Bates, 19, a freshman in the criminal justice program at Ferris says she didn't expect to make such an impact in her first year.
"I expected to be in the middle of the pack, just hanging on with everyone else," said Bates.
Her head coach, Sarah Rotta thought differently than Bates. Before coming to Ferris, Rotta was a coach at the University of Michigan-Dearborn.
"I started watching Sam when she was in eighth grade and was recruiting her from a different University," said Rotta, "I'm not surprised at all with what she's doing."
Bates claims that her biggest strength as a player is the passion that she plays with, and her coach agrees.
"The kid is courageous and gutsy. She dares people to hit her the ball when she's in the outfield. She gets the rest of the team going. She is fierce and fearless," said Rotta.
A prime example of Bates' passion came in a loss against Wayne State last Wednesday. Bates ran down a ball in shallow left field and made a diving catch for the Bulldogs. Not much later, Bates put her all into another diving attempt, but bobbled and dropped the ball. During the play Bates seemed to have some pretty bad whiplash and was tested for a concussion as a result, but passed the test with no signs of a concussion.
While Bates loves playing the game, she notes that her familial relationship with the rest of the team is her favorite aspect of suiting up for the Bulldogs.
"They're like a family to me. I can go to them for anything," says Bates, "I am very proud of my team."
The Bulldogs are looking to improve on a 15-31 overall record as of April 20, but their record in Great Lakes Intercollegiate Athletic Conference play is far more favorable, at 8-10 as of April 20. The Dawgs sit in tenth place in the conference and need to finish in the top eight to make it to the GLIAC tournament.
Coach Rotta said, "We are not satisfied right now. Our ultimate goal is to make the GLIAC tournament, where everyone is 0-0."
The Dawgs have four big games this weekend and will need Bates and company to do all that they can in order to make the tournament.
The team plays a double header on Friday at Hillsdale College, followed by another doubleheader on Saturday at the University of Findlay. Hillsdale is ninth in the GLIAC right now, and Findlay is seventh. If the Bulldogs hope to jump up a few rungs on the ladder, this weekend presents an excellent opportunity to do so.
The games on Friday will be at 3:30 and 5:30 p.m. at Hillsdale and at 1 and 3 p.m. Saturday in Findlay, Ohio.