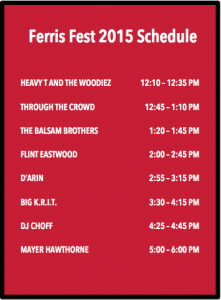 Thursday evening, a post to Ferris Fest's Facebook page began to read, "So Michigan weather, changing forecasts, and Ferris Fest all walk into a bar, the bartender looks at them and instead of saying anything, he just WINKS."
Due to change in this Saturday's weather forecast, Entertainment Unlimited has decided to move Ferris Fest to Wink Arena in the Ewigleben Sports Complex.
Mayer Hawthorne and Big K.R.I.T. are still set to headline. The performance schedule has been consolidated so that all performers will play on the main stage. Ferris Fest attendees can still expect performances from Flint Eastwood, The Balsam Brothers, Through the Crowd, D'arin, DJ Choff and Heavy T and the Woodiez.
There will be a free shuttle to take attendees to and from Ewigleben Sports Complex. The shuttle will run 12 pm-6:30pm. Stops include Lot 28, Allied Health Building, West Campus Community Center, Travis Hall, The Rock and University Center's north and south entrances.
For more information on Saturday's festivities, contact the Entertainment Unlimited office at (231) 591-2610.