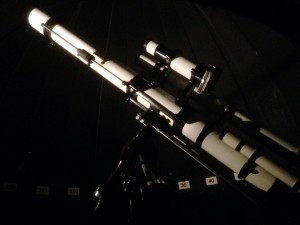 Dr. Tom Brennan will be opening Ferris' Rawlinson Observatory for a look at tonight's half-moon as well as Jupiter and Saturn.
Last November, the College of Arts and Sciences hosted a grand re-opening of the Rawlinson Observatory with a presentation by David DeBruyn, former director of the Chaffee Planetarium. The observatory's telescope and dome had been in need of repair for years prior. An engineer spent over 500 hours last year preparing the observatory for use by students and professors once again.
Weather permitting, visitors are welcome tonight from 11:30 p.m. to 1:00 a.m. If you can see the moon, the observatory will be open. The observatory is not ADA accessible.
The Rawlinson Observatory is located on the 4th floor of the Science Building.