Ann Arbor soul artist Mayer Hawthorne and New Orleans rapper Big K.R.I.T. entertained a crowd of about 700 at this year's Ferris Fest, held in the Ewigleben Sports Complex.
Detroit rockers Flint Eastwood as well as local acts DJ Choff, D'arin, The Balsam Brothers, Through the Crowd and Heavy T and the Woodiez performed throughout the day in Ewigleben's Wink Arena.
Members of Entertainment Unlimited middled between acts, hosting a dance-off and alerting festival goers to activities and giveaways. In the multipurpose room, registered student organizations sponsored activities including the NAACP's pie station and Alpha Psi Omega's fake mustache giveaway.
Monster Energy gave away drinks while Jimmy John's handed out subs. The Bulldog Sustainability Alliance had a big presence in collaboration with the High Five program as they promoted their environmentally conscious slogan #LessTrashMoreFun.
The half-lit Wink Arena filled up steadily throughout the day as students walked or were shuttled from campus to the sports complex. One thing students couldn't help but notice, though, was the warm April Saturday that was happening right outside.
The yearly festival, originally held in celebration of Earth Day, traditionally takes place in the North Quad. Entertainment Unlimited ruled on Friday, April 23 to move Ferris Fest indoors in anticipation of a cold, rainy weather forecast.
"We understand that moving Ferris Fest indoors limits the expected atmosphere for attendees," said Lola Schultz, one of the Ferris Fest coordinators.
While the weatherman was proven wrong and the venue change ultimately proven unnecessary, Entertainment Unlimited took the well-being of students and expectations of the production company heavily into consideration in making the decision to move.
Yet, the great weather on Saturday only served as further incentive for students to get out and enjoy the day before and after enjoying Ferris Fest. Students were seen indulging in Saturday festivities across all of Big Rapids, including what now seems to have become a Ferris Fest tradition, burning furniture in the courtyard of Oakwood Apartments.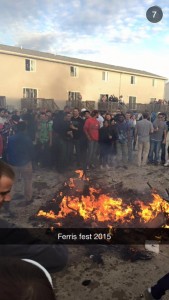 Hundreds ran wild in and around the Oakwood complex throughout the evening until about 7:30 p.m., when police arrived to extinguish the furniture fire and send the majority of party-goers elsewhere. Closer to campus, officers on bicycles patrolled the streets throughout the evening, making arrests, issuing warnings and pouring out open containers of alcohol.
With a $100,000 yearly operating budget, Ferris Fest is the largest Big Rapids concert of the year. Entertainment Unlimited, the campus programming board, coordinates Ferris Fest with this budget, allocated by the Finance Division of Student Government. Each Ferris student funds Finance Division and Ferris Fest through the yearly $25 student activities fee included in tuition.
This year's Ferris Fest coordinators were music industry management juniors Lola Schultz and Bryan Hinrichs. Past Ferris Fest performers include Karmin, Reel Big Fish, Motion City Soundtrack, All Time Low, Travis Porter, Sean Kingston and Cartel.