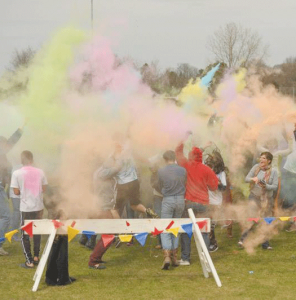 For the second year in a row, the Office of International Education will be sponsoring the traditional Hindu festival of Holi. With a larger presence of international students from India on campus this year, the office is excited to share this celebration of Indian culture with the Ferris community.
"When [international students] are here and these festivals are going on and they're not home with their families and their communities, that's when the homesickness sets in," said Lisa vonReichbauer, assistant director of the International Office of Education. "It's very similar to many students in our community being away from home on Christmas or Thanksgiving. The same feelings that they would have are the strong feelings that our students have on those big holidays, so if we have these opportunities for our international students to share their cultures and to celebrate these events, it helps them overcome some of that homesickness. At the same time, it gives our community an opportunity to see the different customs and traditions."
According to Riddhi Mehta, an international student recruiter who grew up in India, the festival of Holi originated with the myth of Prahlad and Holika. The legend tells of an evil king named Hiranyakashyap who demanded to be worshiped by everyone in his kingdom. When his son Prahlad, a follower of the Hindu god Vishnu, refused to worship him, he attempted to have Prahlad killed.
Hiranyakashyap's sister Holika had been given a blessing that would save her from being burned in a fire. Believing that Prahlad would perish while Holika survived, Hiranyakashyap ordered the two of them to enter a fire together. Because of Prahlad's devotion to his faith, Vishnu saved his life and instead the flames consumed Holika. During the festival of Holi, which derived from Holika's name, Indians celebrate this triumph of good over evil.
"The part that you really see celebrated all over is the throwing of powder color and water and it's very colorful, but traditionally—and it still happens in many parts of India, especially in the Northern regions—the actual festival starts in the evening before the day the colors are celebrated," Mehta said. "The evening before will be a bonfire that is lit in order to pay respect and remember the fact that good always wins over evil."
The traditional powder used in the festival of colors is known as Gulal powder. It comes in many colors and is easily washed out of the skin and hair. According to Mehta, friends will sometimes prank each other by throwing other varieties of powder that take up to 2 weeks to completely fade. Each color of Holi powder has significance, such as red representing purity, green representing vitality, blue representing calmness and yellow representing piety. Some participants also throw colored water using buckets or balloons.
"I can remember when I was growing up, we used to fill up lots of water balloons with colored water and if we saw anyone who was walking on the street, all the kids would be attacking him with balloons," Mehta said. "That was my favorite part. But I think, for me now, I like the fact that your family comes together and plays it and I think it's a good reminder that being a good person is very important."
At FSU's Holi celebration, students can expect lots of colored powder and water, as well as music provided by Music Industry Management students.
"It's kind of a spring celebration as the students move into exam week, so it's a way to let off a little steam on a Friday," vonReichbauer said. "We have a lot of colored powder coming, so we hope that we can have a large group of students and it will be a very fun event to see visually with all the colors."
The Holi celebration will take place on Friday, May 1 from 4 pm until 6 pm in the North Quad. Everyone is welcome. Those planning to attend should wear clothes they don't mind getting stained. The colored powder shows up best on white clothing.
For more information on the festival of Holi, visit www.holifestival.org.