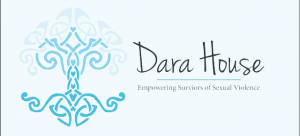 Sigma Lambda Gamma is fund raising for Dara House by having a Latin dance night on April 30th in the University Center room 209 at 7:30 p.m.
"Dara House is an organization that is working towards creating a community for college-age survivors of sexual violence," said Liz Fabode, a senior in healthcare system administration and the president of Sigma Lambda Gamma. "That is really important to our sorority because our focus nationally is woman empowerment, and that is also the goal of Dara House."
According to Fabode, Dara House wants to empower victims of sexual violence to help rebuild their lives, move forward, and to have a support system.
"We hope that everyone comes out and enjoys themselves. We are asking for a minimal of a two dollar donation, but if you don't have that, still feel free to come out and have fun with us," said Fabode.
According to Fabode, the donations will go to Dara House's overhead cost. The organization is fairly new and is striving to have a location to house victims and have on call staff.
"I believe that they are close to their goal, and the move should happen soon," said Fabode. "Everything that we are doing to help them nationally is helping to give them that final push."
Sigma Lambda Gamma feels strongly about women empowerment and helping women of sexual violence. They believe raising money for Dara House is one of the least things they can do for the community.
"There is a lot of focus on adults and child victims, but college-age women don't really have a 'home' they can go to for support," said Fabode. "Some college campuses have services and our services here at Ferris are really great, but in terms of somewhere someone can physically go to and feel comfortable and connect with other women that have gone through the same thing is rare."
Sigma Lambda Gamma decided on Latin dancing to raise money because they have a focus on multicultural membership, and they believe dancing is a great way for people of different cultures to connect.
"Those attending should wear something easy to move around in and expect to have a lot of fun," said Fabode. "They might feel goofy at first, but it is easier to learn new dance moves when everyone is learning them at the same time. I think they will be surprised with how much they'll learn."
Omar Gonzales, a Ferris admissions recruiting officer, will be instructing the dance session and will be teaching salsa, cumbia, merengue, and bachata.
"It is going to be a lot of fun because it is something new on campus and those that attend will be exposed to a new culture," said Fabode. "I think students should attend this event, because they will be able to use their new dance moves on the dance floor on Friday night; it is perfect timing."