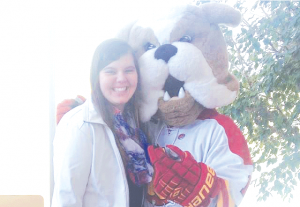 Kaitlyn Patrick, also known as "KP," a 20-year-old junior in the public relations program at Ferris, is known for her cheerful attitude and her involvement on campus. However, it was not too long ago that this was not the case.
September 2, 2014 is the day that changed Patrick's life forever. Her best friend, Nick Hudec was riding a jet ski when he hit a large wave and was thrown from his jet ski. When he fell into the water, he hit his head. Hudec was rushed to the hospital where he was pronounced dead.
For Patrick, losing Hudec was so much more than losing a friend. She saw Hudec as her other brother. They had grown up together, learning to ride bikes, learning how to drive and watching each other play sports. His death rocked Patrick and changed the way that she thought about life.
Shortly after Hudec's death, Patrick fell into a depression and lost her love for life.
"I was literally just rolling through the motions to get by. I didn't realize how his death was affecting me until I was approached by my peers in the organizations I'm in, my boss and my advisor, Dr. Bishop. They basically said I lost my KP-ness, so I sought out counseling and it made me such a strong woman," said Patrick.
"I saw a stronger, more calm and confident KP arise over time from this tough situation," said Dr. Patrick Bishop, a public relations professor and advisor at Ferris. "She seemed to find some inner strength which allowed her to be even more positive and open in connecting with people, and sharing the big, warm heart she has."
Patrick's best friend and sorority sister, Carman Plank, said that Patrick came back from counseling a completely changed person.
"I think that after seeking counseling, she became more motivated, even more so than she was before she lost Nick. I think that she has been able to get more excited about things lately. I have also seen that she doesn't sweat the little things as much and that she has started to realize that everything will work itself out, one way or another," said Plank.
After seeking counseling, Patrick discovered that everything she was doing was being done with more meaning.
"Nick's death was a complete accident and essentially a wake up call to realize not to waste time worrying about things you can't change. Waiting for that right moment to fall in love or think you'll have the rest of your life to do something. You might not," said Patrick.
Patrick went on to say that her involvement on campus as Co-Director of The Big Event, Vice President of Zeta Tau Alpha, and Vice President of Chapter Development for the Public Relations Student Society of America, has more meaning since Hudec has died.
"Before Nick's death, I was still fulfilled through being involved but now I understand the importance to take breaks and really do things that I value, not just because I can fit it in my schedule. Time is precious, and people are precious," said Patrick.
"I think that KP is really focusing on what her passion is and what makes her happy. KP has always been motivated and involved, but I think she is tailoring her involvement more to what she wants and what she loves to do," said Plank.