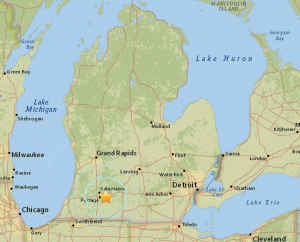 On Saturday, shortly after 12:00 p.m., people from across Michigan reported having felt a small earthquake tremor.
The Earthquake Hazards program at earthquake.usgs.gov has since confirmed that at 12:23 p.m., a magnitude 4.0 earthquake shook 8 kilometers south of Galesburg, Michigan, near Kalamazoo.
Joseph Clark, a National Weather Service meteorologist, said of the earthquake, "Near the epicenter, it would be possible for a few things to fall off shelves."
"It's pretty good by Michigan standards," Clark said.
No major injuries have yet been reported.
Did you feel the earthquake? Comment below with your experience.