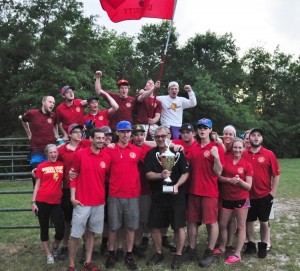 In a sudden-death match against University of Nevada, Reno, Ferris' Disc Golf Team took first place at the Men's Collegiate Disc Golf Championships in North Augusta, South Carolina.
Surprising, but yes, Ferris does have a disc golf team and they're now number one in the U.S. The week-long tournament concluded on April 19, with a winning 3-foot birdie putt by Kendall graphic design student Sam Mrdeza. 61 schools from across the United States competed for the title of champion.
"It was an awesome experience," said Xavier Locke, a member of Ferris' disc golf team and an energy systems engineering junior. "Had a blast meeting and making friends with other teams, and you can't go wrong playing beautiful courses for a week straight."
The National Disc Golf Championship was hosted by the Professional Disc Golf Association, which has been promoting disc golf as a professional sport since 1976.
The Ferris Disc Golf Team is a club team with around 25 active members. They placed second at the tournament in 2014, and the team hopes to continue a winning tradition next year.
The Ferris Disc Golf Team can be found on Facebook here.