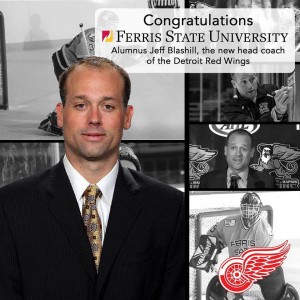 Filling the shoes of a first ballot Hall of Famer will not be an easy task, but a former Ferris State hockey player is up for the challenge.
Jeff Blashill, who spent his time between the pipes for the Bulldogs 1994-1998 will be taking over the much sought after position as Head Coach for the Detroit Red Wings.
Mike Babcock previously held the head coaching position for the Red Wings before he signed to an eight year, $50 million deal with the Toronto Maple Leafs in May. Blashill, a Sault Ste. Marie, Mich. native announced his hiring at a press conference in Detroit earlier today.
After finishing his career as a goaltender for the Bulldogs, he went on to be an assistant coach at Ferris for three seasons before becoming an assistant coach at Miami University of Ohio for six seasons. Blashill then took his talents to the United States Hockey League (USHL) where he was the head coach for the Indiana Ice for two seasons.
After a year as a head coach for Western Michigan University, Blashill became an assistant coach for the Red Wings for a season before heading to the American Hockey League (AHL) where he became the head coach for the Grand Rapids Griffins.
In the first year of his three-year stint as the Head Coach for Grand Rapids, Blashill led the Griffins to their first ever Calder Cup Championship, the AHL equivalent of the Stanley Cup.
In his time in Grand Rapids, Blashill's team made the playoffs all three seasons and he received the AHL Coach of the Year Award in 2014. Blashill also posted a 130-71-23 record during his time at the helm for the Griffins.
Blashill's transition to the NHL could be a bit easier than some considering he has coached many young Red Wings when they were playing for the Griffins. Tomas Tatar, Luke Glendenning and Petr Mrazek are just a few names on the Red Wings roster that Blashill coached in Grand Rapids.
Blashill's brother Tim is currently the rink manager at the Ewigleben Ice Arena at Ferris State.