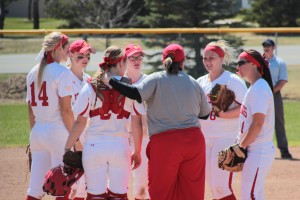 The Ferris State softball team has a new head coach for the third time in as many years.
West Michigan native Wally King will take the helm as the Bulldogs head coach for the 2015-2016 season. King was named head coach of Ferris State earlier this year on July 31. He brings decades of softball experience to the Bulldogs, who struggled their way to a 16-36 season last year.
Most recently, King was the national director of coach and player development with Diamond Sports Training in Grand Rapids. King has tried his hand as a volunteer assistant coach with NCAA-I Furman University and also served as an adjunct professor at Muskegon Community College teaching health and weight training.
King was also the former associate head coach of the Division I Syracuse softball team where he spent his time from 2008-2013. During his coaching at Syracuse, King led the Orange to four 30 win seasons and also two Big East championships in 2010 and 2011. In 2011, King and the Orange tacked on a 45-13 record, the best record ever for a Syracuse softball team. Yet through all of this success, he still wished to return to West Michigan.
"From the moment I stepped on campus I knew this was a good fit for me," King says, "I have been on the road for a long time—too long—and the chance to be home with my family was a key factor in my decision to pursue this opportunity."
Ferris players hope to have King stay for a while and create a sense of consistency within the coaching staff.
"This is my third coach in three years. If we can get a coach to come in and stay it will be very beneficial to our team," junior pitcher Megan Hiler said.
Hiler believes that King's experience in the softball world will help their team improve significantly.
"I am pretty excited," Hiler said. "He's coming from Division I and obviously knows how to win."
The regular season doesn't start until February for the Bulldogs, but that doesn't mean that they aren't preparing for the season to come. This fall the team will be playing in a tournament against teams like Indiana University-Purdue University Fort Wayne (IPFW) and Taylor University.
According to Hiler, the team's goals are to win the Great Lakes Intercollegiate Athletic Conference (GLIAC) title and win the GLIAC tournament.
"With all the talent that we have it is possible. I honestly think we have a great chance at winning the GLIAC if we can all work together to reach that common goal. All of the girls want to succeed," Hiler said.
The talent is definitely there for the Bulldogs, who are returning 12 letter winners this season. Among the returning players are sophomore catcher/utility player Emily Reed and outfielder/pitcher Sam Bates who batted .323 and .291 last season. Junior infielder Sarah Johnson will also be returning this year after playing all 52 games last season and batting .308. Junior pitcher Stacy Thompson is also a big returner for the Bulldogs, who held a team best 3.74 ERA in 22 games. Still, there is room for improvement.
"Practices will be very detailed with an emphasis on the fundamental ways we want things done," King said. "From a conditioning standpoint our focus will be on explosive movements. We do very little distance work, but instead work on becoming explosive athletes who can cover short amounts of ground quickly."
Coach King is well known for his ability to coach at a high level, especially with hitting. While coaching at Northview High School, King's team led the state with 28 home runs, which was 21 more home runs than the team hit in King's first season as head coach. At Grand Rapids Community College, King was the head recruiter and assistant softball coach. He led the team to two consecutive National Junior College Athletic Association World Series'.
The Bulldogs will be looking to grow under Coach King this offseason, and bring a new sense of stability and success that the softball team has been missing in recent years.