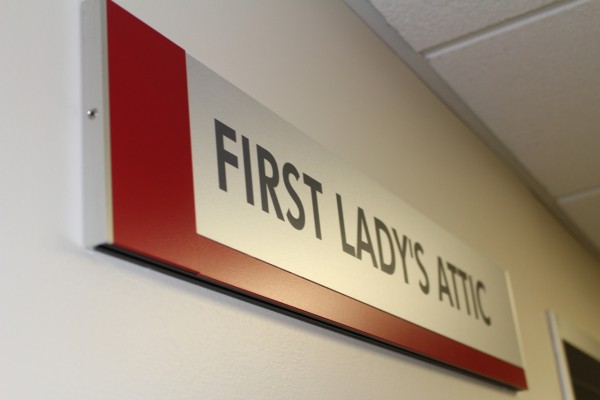 Between RSOs, internships, and class presentations, Ferris students need an outfit that goes beyond leggings or sweatpants once in a while. Thanks to the First Lady's Attic, worrying about how to look professional without breaking the bank is something students will not have to stress about.
Patsy Eisler, President David Eisler's wife, made her dream of helping students dress professional for school-related events come true in 2009 when the First Lady's Attic opened.
"The purpose of the First Lady's Attic is so that Ferris students can have the opportunity to have professional clothing for internships, interviews, and class presentations," said Tiffany Shack, a business data analytics junior who works at the First Lady's Attic.
The clothing at the store is free for students. Donations come from the Big Rapids community and Ferris students. Students are allowed to keep one outfit per semester of their choosing.
"I went to the First Lady's Attic with certain pieces of clothing in mind," hospitality senior Kasey Perry said. "They showed me where to look for everything I needed for my conference with my RSO, which is National Society of Minorities in Hospitality. I chose to go there because I didn't have extra money and I heard it was a good place to go for business clothes."
Perry needed to purchase a black blazer to match a black mid-knee pencil skirt and a navy blue blazer skirt to match a navy blue blazer. According to Perry, every day of her conference she needed to be dressed in business attire. With her new findings at First Lady's Attic, she was able to mix and match her new blazer and skirt for multiple outfits.
"This is something that not a lot of students take advantage of, probably because they don't know about it," Shack said. "Sometimes our clothes are just not what students are looking for, but it's all donated and you can't be picky about free clothes."
For some students, they can't afford to be too picky, which is why the First Lady's Attic is on campus.
The store is set up with clothing racks ordered by different sizes. Accessories such as purses and shoes are displayed on the walls. The store is very organized and clean.
The First Lady's Attic can be found in room 134 in the University Center. Hours vary from day to day. Donations are always accepted and can be dropped off at the store, the Timme Center or Pete's Dry Cleaning, which is located at 115 Hemlock Street.