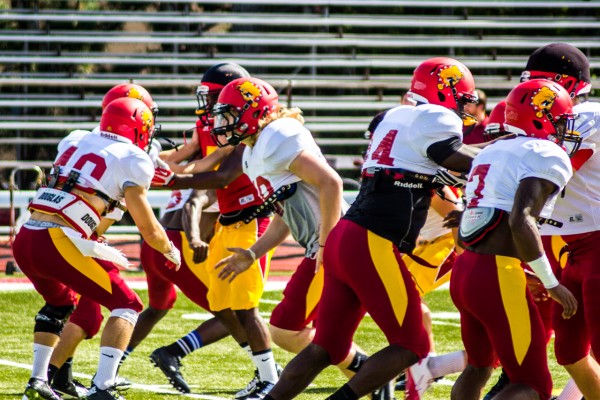 The Ferris State football team is prepared to do big things in the 2015-2016 season.
The Bulldogs are coming off a phenomenal season last year that included an undefeated regular season, a Great Lakes Intercollegiate Athletic Conference Championship, and a Harlon Hill Trophy winner in quarterback Jason Vander Laan.
Vander Laan, who won the Division II version of the Heisman Trophy last year scored 50 combined touchdowns through the air and on the ground last season for the Bulldogs. Although Vander Laan is a key component to the Bulldogs' success, he isn't the only key returner for Ferris this year.
The team will be returning over 50 players from last season's roster including wide receivers Shakur Sanders, Jamel Lockett, Antonio Agurs, and running back Jahaan Brown. On the defensive side of the ball, linebackers KC Zenner and Anthony Darkangelo will be returning, as well as defensive end Justin Zimmer.
"It is nice to have a lot of returning veterans back which make practices go smoother. We all have a great mindset and won't give anything but our best effort each day. Bringing back this many guys really cuts down on any wasted time going over plays and formations and lets us get right into the action of practice. It also helps the young guys when we have so many upper classmen that know their assignments and can help teach the younger guys," Vander Laan said.
Ferris is currently ranked No. 2 in the nation according to the D2Football.com preseason polls. With such a high ranking comes high expectations, but the Bulldogs aren't concerning themselves with preseason polls.
"We don't really look much into the preseason polls because they don't mean anything.  We are just focused on getting better every day and playing our best each Saturday," said sophomore linebacker KC Zenner.
Sophomore wide receiver Shakur Sanders isn't caught up in the hype either.
"Hype is just hype. As a unit we are only focusing on our first game against Northwood. We take it day by day and week by week. Every week there is a new opponent and we are just preparing for the battle in front of us," Sanders said.
As far as goals go, the Bulldogs are setting the bar as high as possible going into the season.
"Our first goal is winning our first game against Northwood on September 12. Beyond that we have high aspirations of making a deep playoff run and have made it clear we want to go onto a National Championship," said Vander Laan.
Vander Laan isn't the only one who wants to bring home a National Championship trophy to Big Rapids.
"It's a legitimate goal to win the Division 2 National Championship," said Sanders, "it's hard beating men who see the same vision."
The Dawgs will kick-off their first game of the season on Sept. 12 against the Northwood University Timberwolves at 7 p.m. at Top Taggart Field in Big Rapids. Ferris beat the Timberwolves 27-7 last season when Vander Laan ran for a touchdown and threw for three more.