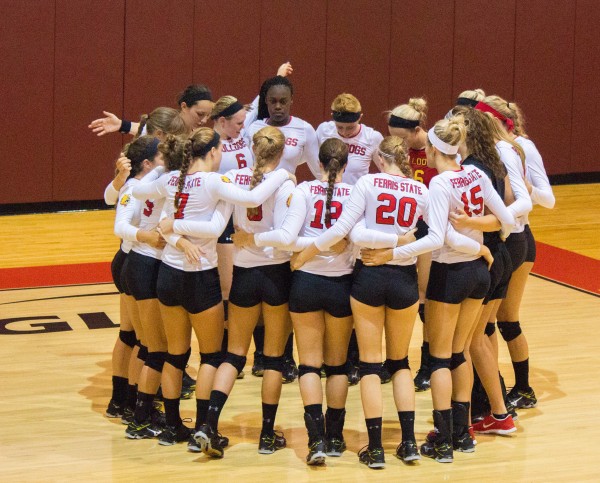 The reigning GLIAC Campion Bulldogs of the volleyball team were tasked with opening the 2014-15 athletic season today as they hosted the Ferris State Invitational at home against competition from around the country.
On day one of the tournament, the Dawgs first saw action against California (Pa.), followed by an evening match against Missouri Western St.
Picking up where they left off on last year's championship campaign, the Bulldogs caught fire early and refused to let off the gas as they blazed past visiting California (Pa.) in three consecutive sets to sweep the match.
FSU senior middle hitter Caroline Heitzman led the Dawgs in kills in the first match, racking up nine to lead the Dawgs to victory. Working hard to keep the kills rolling was junior setter Stephanie Sikorski who tallied a team high 22 assists. Sikorski recorded 20 more assists than anyone else on the Bulldogs' side of the floor in the first match.
In the Bulldogs' second showdown of the night, they defeated MWSU 3-1. Heitzman once again led the team in kills, but this time around was joined by Ayanna Buckley at the top, as they each notched 14 kills for the Dawgs. Sikorski netted 27 assists in the second match of the day, once again leading the team.
UPDATE:
Saturday was a similar story for the Bulldogs as they rolled through McKendree University and Metropolitan State University without dropping a set. Sikorski again led the #18 ranked Bulldogs in assists with 31 in the first match of the day against McKendree. Megan Vander Meer led the team in kills with 12. Heitzman added nine kills and senior outside hitter Alexis Huntey contributed seven more kills.
In the last match of the invitational for the Bulldogs, FSU once against swept their opponent. The match unraveled just like the first, Vander Meer, Heitzman, and Huntey all led the team in kills for a combined 25 on their way to the team's fourth win of the season. Sikorski tallied 30 assists in the contest.
The Bulldogs now sit at 4-0 on the season, making them 15-1 in their last 16 games counting last season. This weekend the team will head to Denver, Colo. to play in the Colorado Premier Challenge.
The team will play Missouri University of Science & Technology, and the University of West Florida on Friday the 11th. Their opponents on Saturday will be dependent on how the Bulldogs play amongst other teams in the tournament.