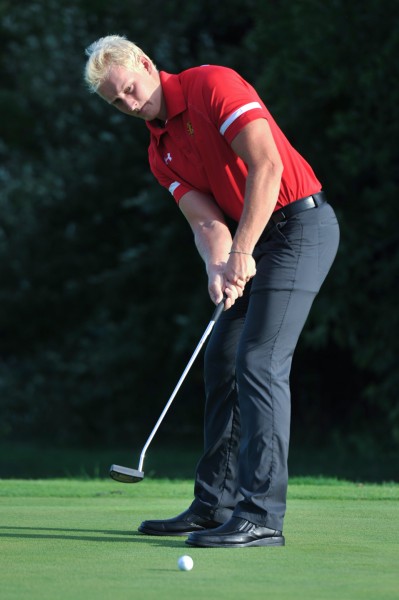 The Ferris State men's and women's golf teams will be teeing it up in their first competition of the year this weekend.
The men's team will be heading to Marquette to play in the Northern Michigan University Wildcat Invitational on Friday and Saturday. The women will make their way to East Lansing to play at the Michigan State Invitational on the same days.
The men's team will be playing the Greywalls course at Marquette Golf Club in Marquette, Mich. The team will be without some key players for a few different reasons. The Bulldogs' No. 1 and No. 2 golfers from last season won't be in the lineup this year. No. 2 Chris Eaton graduated this past May, and All-American Ben Cook will be on internship.
Though the two former stand outs will be hard to replace, the team is convinced that they have a squad that can compete at a high level this year.
"Ben Cook is an irreplaceable asset to our team. Everyone knew that he was going to be gone on internship this year and I believe it motivated several guys to work harder this summer. They took initiative and further developed their games and I believe that we have a team that can be even better than last year's," said senior finance major Zak Kiefer.
The team will fill those holes with some new players including sophomore professional golf management major Jack Weller. During the offseason, many players including Weller were playing in amateur tournaments to keep their swings in top shape.
"A lot of the preparation we do in the off-season is individual work. We are constantly working to engrain that perfect swing so when it comes time to compete it is more of a natural reaction rather than a forced thought. Many of the guys continued to play in amateur events around the country this summer to keep the feeling of competing against other players fresh in our minds," said Weller.
The men aren't the only ones grinding in the offseason. The women's team has been preparing themselves for another season on the links as well. The team will play their first tournament at Forest Akers West golf course in East Lansing.
Libby Berens, a senior in interior design, is a key returner for the Bulldogs amongst many others. The team will be returning all five players who were in the lineup in the Great Lakes Intercollegiate Athletic Conference tournament at the end of last season. Not only are there plenty of returners, there is a good crop of freshmen coming onto the team as well.
"All of the returners have been working very hard over the summer," said Berens. "We also have a lot of freshmen this year. Having a couple spots open on the traveling team, it's hard to tell who will step up. They are all amazing and strong players. So any one of them could step up and be that player that completes the 5/6 spot."
The team didn't have their best season last year but looks to improve, and Berens said it all starts with keeping their mental game in check. "We all got in our own heads. When we needed to come together, we put too much pressure on ourselves and fell apart. This year, if we learn to just have fun and enjoy doing the sport that we love, things will fall back together," said Berens.
Both teams tee-off on Friday at their respective courses.