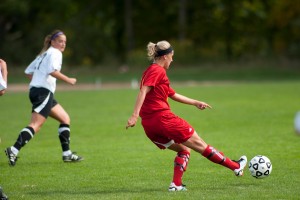 The Ferris State soccer team started their season off on a sour note last weekend, but plan on turning it around in the games to come.
The Ferris State Bulldogs fell to the Truman University Bulldogs by a 3-1 deficit last Friday in Kirksville, Mo. The team traveled almost 600 miles to play in the game. Ferris State's lone goal was scored in the 89th minute by junior defender Kate Kelly. That made the score 3-1 late in the contest after Truman scored three second half goals, two of which came within 6 minutes of each other.
The team will need to play a little better if they want to achieve their goals for the season. Senior goaltender Maddie Haustein said, "As a team, we have some pretty ambitious goals this year. There's two big ones. We would like to finish in the top four of the GLIAC (to receive home field advantage for the GLIAC tournament). We would also like to receive an NCAA tournament berth. As a program, we have never accomplished either of these two things. But with the group we have this year I believe both goals are realistic and within reach."
The large amount of miles traveled during their road trip could have had some effect on the way the Bulldogs played last weekend. After going to Missouri, the Dawgs traveled to Quincy, Ill. to take on Quincy University.
The Dawgs were bested by Quincy 3-0 in their game last Sunday in Illinois. Ferris traveled around 10 hours total on their way to Truman and Quincy. The Dawgs aren't using the long hours on the bus an excuse, though.
"Road trips are fun but ultimately they are a business trip.  Just like any other game, we are there to get a win and we don't see traveling as an excuse not to perform our best," said senior defender Ashley Bradstreet.
In the game against Quincy, the Dawgs once again held strong in the first half but lost their fire after halftime. The first goal of the game was an unfortunate one for the Bulldogs, as they headed a corner kick into their own net on an attempted clear. Quincy would add on two more goals during the 81st and 87th minutes to get the final score to 3-0.
Ferris goalie Maddie Haustein saved an insurmountable number of shots but it wasn't enough for the Dawgs. She stopped 14 of 17 shots in between the pipes for the Bulldogs to keep the game close.
Last year, FSU posted a disappointing 6-10-2 record on the season. Their record could have been much different had they won a couple more close games. Seven of the team's ten losses were by one goal. "Our team's focus is to cut down on goals against by being strong defensively. And to not give up a lead. Last year we lost a lot of games by one goal and it was either by giving up a lead or we couldn't finish the ball," said senior midfielder Abby Meirndorf.
Ferris will play their first home game of the season today at 4 p.m. in Big Rapids against Indiana Wesleyan.