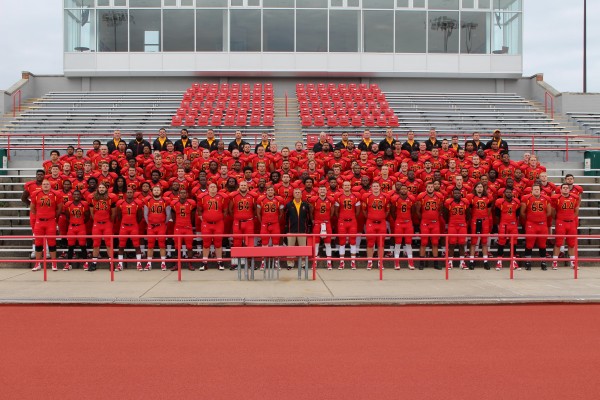 The Ferris State football team will return to the gridiron for their first game of the year this weekend.
The Bulldogs will host the Northwood University Timberwolves on Saturday at Top Taggart field. The expectations are high for Ferris after coming off an 11-1 record and an undefeated season last year.
In 2014, Ferris beat Northwood 27-7 in an away game and they hope to experience a similar result this Saturday. "It's very important to start off the season on a good note. The first game gets the season rolling and if you start off well it builds the momentum going into the rest of the season," said senior defensive tackle Justin Zimmer.
After not having a game last Saturday when most teams were starting their seasons, the players are chomping at the bit to get on to the field.
Zimmer said, "I'm very excited, the off season always seems so long and at this point everyone is pretty tired of beating up on our own teammates."
Junior running back Jahaan Brown is also ready to get on the field and play full speed after a long offseason.
"I am extremely excited to get back on the field. I have spent most of my time preparing for this season. I have never been this excited for a season to start in my life," said Brown.
Brown has a little bit more urge than others to return to the field since he missed a portion of last year's season after getting injured late in the season against Northern Michigan. He has been working hard during the offseason to get back in top shape for the opener against Northwood.
Brown said, "I have been preparing non-stop. If I wasn't asking Coach about certain plays, I was working out or watching film on my own just so I can come into practice and not miss a beat. Coming off of surgery is tough to bounce back from, more so from a mentality stand point. But I have a great cast that believes in what I can do so they helped me out a bunch."
The Bulldogs get to start their season off on their home field, which could be very crucial considering they are 9-2 at home in the past two seasons. In that same span, the Bulldogs have outscored their opponents at home by a total of 582 to 333. The Dawgs want to see the stands filled with red to welcome the team back for the season.
"I think it is very important for us to come out to a packed house, and play in front of our home crowd. Nothing like playing at home in front of people who love you," said Brown.
The game will kick-off at 7 p.m. Saturday night. Tailgating will begin at 3 p.m. in the Business parking lot. Fans are encouraged to come early and wear red.