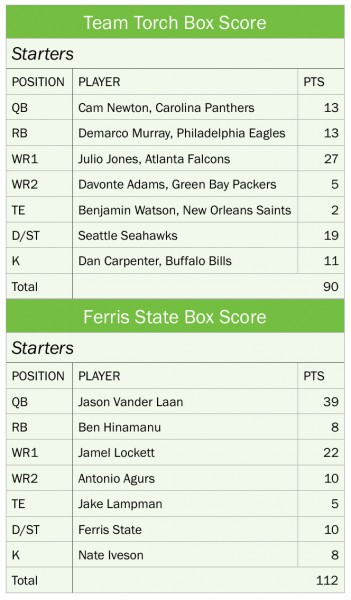 Not only does Ferris State Football open their season this Saturday, the Pittsburgh Steelers play the New England Patriots tonight to start the NFL season.
We all know that with the start of the NFL season comes the start of fantasy football. At 8:30 tonight, not only does the season start for Tom Brady and Antonio Brown, it also starts for me, and anyone else trying their hand at managing the best fantasy football team of all time.
Do you ever wonder how your own Ferris State football team would match up with NFL players on the gridiron? I don't think I'll be able to arrange that, but I'm going to try for the next best thing.
Starting this week, I will be creating an NFL fantasy football team and will compare the stats of my fantasy roster to the stats of the Bulldog football players.
Each week I'll choose one quarterback, one running back, two wide receivers, a tight end, a defense/special teams, and a kicker from various NFL rosters. These players will go head to head against the best performers of Ferris from that particular week.
Here is my roster:
---
QB – Cam Newton, Carolina Panthers
Newton isn't a top ten quarterback in the NFL in my opinion, but he'll be playing against the 22nd rated pass defense in the Jacksonville Jaguars.
RB – Demarco Murray, Philadelphia Eagles
Murray is coming off the best season of his career in Dallas. In Chip Kelly's high energy offense, I expect Murray to get plenty of carries this week against a weak Falcons rush defense.
WR1 – Julio Jones, Atlanta Falcons
The only pass defense worse than the Eagles is the Falcons themselves, and Julio Jones is an unbelievable talent. Look for Matt Ryan to throw Jones' way plenty of times at home on Monday night.
WR2 – Davonte Adams, Green Bay Packers
With Jordy Nelson out for the season with a knee injury, Adams will step in as the No. 2 receiver for the Packers behind Randall Cobb. It doesn't hurt that the Bears' pass defense was 30th in the league last year.
TE – Benjamin Watson, New Orleans Saints
This is my sleeper pick. After the departure of Jimmy Graham, the Saints have been searching for someone to fill the void at the tight end position. Watson won the spot, and with limited options at wide receiver, Brees could be looking to Watson more than expected in week 1.
D/ST – Seattle Seahawks
Put the No. 1 defense against a No. 28 offense and the rest should iron itself out.
K – Dan Carpenter, Buffalo Bills
With Tyrod Taylor stepping in at QB for the Bills, I think they'll have trouble scoring in the red zone. This will leave Carpenter to pick up the scraps.
---
Let's see how Vander Laan stacks up against Cam Newton. According to the ESPN standard points system, Newton averaged 16.1 fantasy points per game last year. Vander Laan would have averaged a whopping 29.75 fantasy points per game, which is eight points more than any NFL quarterback last year.
Ferris State takes on Northwood this Saturday at 7 p.m. in Big Rapids.
Check out next week's issue of the Torch for the full rundown on the results.