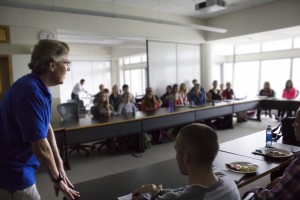 Ferris communication professor George Nagel teaches students how being mindful helps them to better themselves through his Mindfulness Practices Laboratories.
Nagel's labs enable students to learn about a number of mindfulness practices, increasing the quality of both their personal and professional lives. Nagel teaches practices that can be used at any time and in a matter of minutes, not just in his workshops or a formal setting.
"I offer these events to students to help them be more mindful because mindful students learn more and better," said Nagel.
According to Nagel, students perform better on quizzes and exams in classes that start with mindful mediation, which is why he asks his students to take five minutes of silence before he starts teaching. 
"If we are truly mindful, we are better at everything we do," said Nagel.
The Mindful Practices Labs take place in FLITE 442 on Wednesdays with the first session starting at 12 p.m. and the second starting at 1 p.m.
"I enjoy being able to relax, have time to myself, and to close my eyes," said an anonymous Ferris staff member. "I will attend these events in the future to give me 30 minutes of stress-free time."
The 30-minute sessions are time away from classes, homework and organization involvement. This is time to take for yourself to refresh your mind in the middle of the week.
Nagel claims being mindful is to be focused and paying attention. If you are being intentional and have the right attitude, you can maximize the situation and get the most out of each and every moment.
"I want to stress that these sessions are for students, faculty, staff and community members," said Nagel. "We are all equals in this room and when we share experiences about the mindful practice."
The experiences work the same for professors as they do for students.
"Being mindful will help them be better teachers, for the very same reasons," said Nagel. "Being mindful allows the brain to have access to more information."
Nagel also offers Lunch and Learn session on Fridays in FLITE 438 and sessions at Heart and Sole Yoga in Big Rapids. For more information, contact George Nagel at nagelg@nullferris.edu.