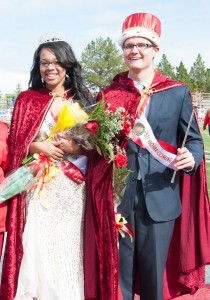 Photo courtesy of FSU Photo Services
Homecoming is just around the corner, this year with a few changes and a week of events to unite Ferris students and the Big Rapids community.
The homecoming committee, comprised of nearly 20 students and faculty, has been hard at work to bring fun and engaging events to campus for next week's celebration.
"Homecoming week is dedicated to showing pride and being a part of your university," said CLACS director and homecoming committee advisor Angela Roman.
"It's the one thing that unites us all," added committee member and music industry management senior Bryan Hinrichs. "We're all bulldogs."
The biggest change to this year's homecoming celebration will be the end of crowning homecoming king and queen. Instead of the traditional king and queen court, the two top-voted candidates, male or female, will be named "homecoming royalty."
Students on this year's homecoming court are Megan Ankerson, Rainer Brow, Taylor Dempsey, Makenzie Hall, Austin Hamilton, Victoria Hudgins, Kaitlyn Patrick and DorthiLen Taylor.
Two males can win; two females can win. It all comes down to votes. The classically awarded crown and tiara not being gender neutral, winners of homecoming royalty will instead be awarded sashes and septors.
Last year's Ferris homecoming king, homecoming committee member and marketing senior Evan Pazkowski explained while he likes his crown, he appreciates how the change to homecoming royalty is more inclusive of different lifestyles.
"These new septors people are getting to keep are fine replacements for a crown, which is really just a glorified hat anyway," Pazkowski said.
"Everyone should be on an equal playing field," he added. "People who don't identify with a specific gender or orientation shouldn't feel excluded. Whoever campaigns properly and gets the most votes will win."
In addition to the week of events, which include Monday's lip sync competition, comedian Bo Burnham on Wednesday and the homecoming parade and football game on Saturday, the homecoming committee encourages students to participate in spirit week.
Students who dress for spirit week, whether it's for "Movie Star Monday" or matching another student for "Twin Tuesday," can pick up Ferris pride prizes daily in the CLACS office between 8 a.m. and 5 p.m.
Another change to homecoming week is a larger budget for events. Homecoming used to be funded through the Division of Student Affairs, but this year, the committee was allocated more funding by applying to the Finance Division of Student Government.
According to committee member and music industry management senior Siyong "Z" Lee, the overall feeling of this year's homecoming celebration will be different than previous years.
"I'm excited because we made a lot of changes," Lee said. "We're giving homecoming more of a festival atmosphere."
For more homecoming information, visit ferris.edu/alumni/homecoming, visit the CLACS office or call (231) 591-2685.