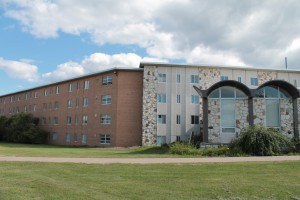 Photo by: Katie Tobak
Taggart Hall, constructed in 1964, is slated for demolition during the summer of 2016
Ferris' plans for the future of student housing will no longer include Taggart Hall, East Campus Apartments or South Campus Apartments.
Taggart Hall, East Campus Apartments and South Campus Apartments will all demolished next summer, said Michael Hughes, the Associate Vice President of the Physical Plant.
Though the original plan was to remodel Taggart, it is now set to be demolished because the building structure would not accommodate the needs of current and future students, Hughes said.
"Part of the reason we are tearing down the buildings is due to the economics of it," Hughes said. "We pride ourselves on making higher education affordable for students, and at this point, it is more cost effective for us to just build new housing. We need buildings that are handicap accessible and can handle the electrical capacity that students need."
According to Hughes, tentative plans are in place to replace most current residence hall housing with more modern living facilities.
"We are using a visioning process to think about what students will need in 5 to 10 years," Hughes said. "We are planning housing for what today's second graders will need at Ferris."
Hughes said there will be a continual evaluation of what current and future students will need. While campus is moving towards being more modern, not all buildings will be torn down; Ferris hopes to renovate many buildings.
"We may remodel housing near the Rock, or we may work on buildings by the University Center," Hughes said. "We haven't made those decisions yet, but we should within the next 60 days."
It is still undecided whether or not they will rebuild new housing in place of Taggart Hall after demolition.