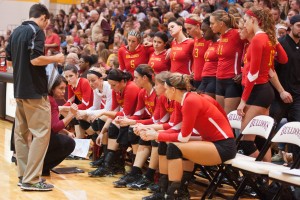 Ferris Volleyball receives some helpful advice during a stoppage in play this past weekend at the Colorado Premier Challenge
The Bulldogs are off to an undefeated 8-0 start and they have gotten there in spectacular fashion.
FSU has only dropped five sets this season and they've beaten some very good competition. The team also brought home some hardware this past weekend after winning the Colorado Premier Challenge in Boulder, Colo.
The Dawgs came into the weekend ranked No. 13 in Division II NCAA, but after a big weekend in Boulder, that ranking has jumped to No. 4 in the nation. Ferris went 4-0 and beat the No. 2, No. 4, and No. 25 ranked teams in the nation all in a weekend's work.
They started off their weekend against Missouri S&T and dropped the first set of the match 25-27. They turned it around quickly and won the next three sets to topple the Miners 3-1. Senior Megan Vander Meer had 18 kills in the match and seniors Caroline Heitzman and Alexis Huntey added 14 kills each for the Dawgs.
Ferris kept it rolling later that day with a 3-0 sweep of No. 25 West Florida to improve their tournament record to 2-0. Huntey led the team in both kills and digs with nine and 16 respectively. The Dawgs were far from finished, with two top four opponents ahead.
Saturday began with a matchup with No. 2 Southwest Minnesota State. The match was close every set, but the Dawgs came out on top with a 3-1 victory. They would win the first set 25-20, but drop the second 23-25. FSU came back strong and defeated Minnesota State in the next two sets by scores of 25-20 and 26-24.
Senior libero Danielle Dowd had 26 digs in the match and junior Stephanie Sikorski contributed 35 assists for Ferris State. Huntey, Heitzman and sophomore Ayanna Buckley combined for 36 kills. The match was close, but the next one was even closer.
In a gritty match against No. 4 Concordia-St. Paul (Minn.), the Bulldogs played a grueling five setter that went on for two hours and 20 minutes. In the tournament championship, the Bulldogs outlasted the Golden Bears of Concordia-St. Paul by a very close margin. After the Bulldogs dropped the first set 21-25 they battled it out in the second set and won 29-27. The Dawgs won the third set 25-23 before losing 22-25 in the fourth.
Ferris State won the fifth and final set by a score of 15-11 against a Concordia-St. Paul team that won seven straight national championships from 2007-2013. The Golden Bears beat last year's national championship-winning University of Tampa team in the semifinals of the tournament before playing the Bulldogs.
"We went to Colorado to look to push ourselves and see what we could do and we were challenged and happened to come out on top," said Ferris freshman Katie Placek.
The championship match was broadcasted live on ESPN3 and both teams put on a show for viewers. Vander Meer led the Bulldogs with 18 kills, Buckley followed with 17 and Heitzman added 15 of her own. Sikorski assisted on 53 of the Bulldogs' 69 kills. Dowd tallied 22 digs to lead the Bulldogs.
Dowd said, "We just worked to play for each other, and anytime there was turmoil we would look to our team and remind ourselves that we are here to serve each other. We are grateful for all the support we received while we were playing in Colorado from the university and from all the students and faculty. We are blessed to be playing for such a supportive university."
Concordia-St. Paul was led by junior Anna Schlaak with a match-high 20 kills. Junior Riley Hanson tacked on 18 more kills for the Golden Bears. Leading the team in assists was junior Kasey Williams with 62 assists in the match.
Following a busy weekend, the Bulldogs will rest until this Friday when they will take on Saginaw Valley State in their first conference matchup of the season at 7 p.m. On Friday. FSU plays Wayne State at 3 p.m. on the following day in another GLIAC showdown.