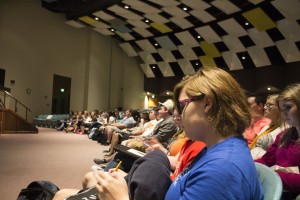 Photo by Katie Tobak
Students at Beer, Booze, and Books were polled via text about their perceptions and habits related to drinking.
It's 7 p.m. on a Thursday and the last thing you want to be doing is walking across campus to hear about the dangers of drinking.
As students filed into the mandatory presentation, spirits were less than high at the thought of sitting through yet another seminar imploring them not to drink. But by the end of the event, not everyone was disappointed.
The speaker, Jim Matthews, is a teacher and counselor at Daniel Webster College in Nashua. He's been teaching variations of this seminar for over 20 years, speaking at Ferris for the last 10.
"I think some people may have thought it was a joke," said pre-diagnostic medical sonography freshman Anna Gren. "I liked it though and my friends liked it. I don't know, a lot of college people and students in general are apprehensive about talking about that kind of thing because they think it's just beer or it's just alcohol."
Welding and engineering freshman Christian Megna thought that the seminar was interesting but that it should have been longer.
"I don't really feel that he gave as much information as he could have," Megna said. "He just glanced over everything and gave a general warning about drinking."
Many students were surprised by Matthews' age, but some thought it was a positive thing.
"He's had more experience so obviously he's going to know more," said freshman graphic design student Maura DeHaven.
"It's kind of nice to take his age and what he's learned and tell younger students about drinking so they know."
During the presentation there were polls taken by Ferris students via text and between the 11 a.m. and 7 p.m. sessions, 40 percent of the students that voted said they would rather be in bed while 41 percent said they would like to leave. Only 19 percent of students claimed they were actually interested in what was being said.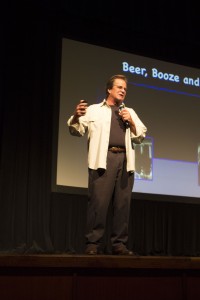 Photo by Katie Tobak
Beer, Booze, and Books presenter Jim Matthews speaks to Ferris freshmen in Williams Auditorium about drinking.