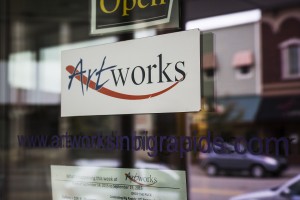 Ferris business administration senior Marcy Marek makes time in her busy schedule every week to create ties between Ferris and the community.
Marek is the fall intern at Artworks. Located in downtown Big Rapids, Artworks is a nonprofit organization that brings art and culture alive in the Mecosta County area.
"It's all volunteer work, but it's really fun and all the people are super nice," Marek said.
Marek began interning at Artworks two days a week at the beginning of the school year. She mainly acts as an assistant to the Artworks staff and saves them time by assisting with everyday duties. Marek also works for Ferris' Technology Assistance Center (TAC) and is a full-time student.
According to Artworks executive director Lynne Scheible, volunteers like Marek help out Artworks more than they realize.
"She helps organize us and we know she's going to be there every single time," Scheible said. "She's going to help us create more consistency with keeping things where they need to go. It's the simple things, but they can make a big difference."
Since Marek is studying business administration, specifically human resources, she is a huge asset to Artworks.
"We're a small nonprofit and don't have HR," said Scheible. "So, when we have people who want to volunteer in the organization, which we depend on for making almost everything happen, it just lets us do more. This is time she could be doing homework or working but she's choosing to help us out instead."
Marek also enjoys her time spent with the Artworks community.
"It's kind of nice and just a break from all my classes," Marek said. "I wanted to learn more about how nonprofits work. Everybody is so nice and it's different than the corporate world."
Scheible said Marek is one of the many Ferris students she's had positive experiences with before.
"It's worth a million bucks building relationships and engaging Ferris students with the community," Scheible said. "Working with a nonprofit is a great way to do that. I really believe in making that connection and providing opportunities for Ferris students and for the organization that's working with students to benefit as well."
Artworks is always looking for Ferris students to volunteer. Call 231-796-2420 to learn of their opportunities.