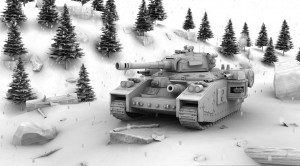 Ferris recently marked 16th for the top undergraduate school for game design for the 2015-2016 school year in the Princeton Review.
Matt Woock, a digital animation and game design (DAGD) senior, is one of the program's current success stories.
"The DAGD classes at Ferris State University are intense," Woock said. "In the program you work hard and sleep little. That's what's needed, especially during crunch time."
The DAGD program is Grand Rapids-based and focuses on teaching the basics and intricacies of working in the game industry. The program also assists students with getting jobs in the furniture and advertisement industry due to the overlap with the content taught in the program.
"I often have larger project-based classes that involve a lot of personal research and effort," Woock said. "I am easily putting in over 70 hours on a lot of assignments."
Woock was drawn to Ferris' DAGD program because of his dream of making video games.
"I know it's cheesy but it's true," said Woock. "Ever since I was a child, I knew what I wanted to do and that was to make a video game I call my own."
Woock's true goal, though, is to become a character artist at a large triple A game studio.
Woock has been involved in animation technology since he was in high school and participated in FIRST (For Inspiration and Recognition of Science and Technology), a high school robotics program that gets teens interested in technology.
"I was part of the animation team and grew very fond of the programs we used," Woock said. "When I realized they were some of the same programs used in the game industry, I knew it was my opportunity."
This past summer, Woock interned at the game studio SixFoot in Houston.
"I was pretty lucky when applying," said Woock. "I was just watching a video that the company was working on and a few weeks later I got an email back from them. They were nice enough to give me chance, considering I had been the first out-of-state intern they have ever had. Everything went well and with any luck I'll be back there next summer!"
Woock was a quality assurance tester at SixFoot, which meant his job was to playtest, find bugs and help balance the game. He said he would sometimes spend up to nine hours a day testing video games.
"The two games they had me working on were Grey Goo and Dreadnought, both fantastic games," said Woock. "Dreadnought has yet to release so there are a lot of things I can't say about it, but I can tell people to go check it out if you like giant space ships and cinematic combat."
Woock also runs a group for Ferris students called the Art Slamjammathon. The members help each other out and try to keep each other motivated during break to work on personal projects.
"It's a small thing but I'm really proud of it," Woock said. "We're at 78 people now. It's a mix of Ferris students, instructors and alumni who do 3D art."