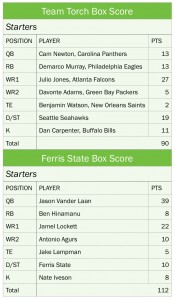 Ferris State football put quite a beating on Grand Valley State in a 61-24 victory last Saturday.
If a team is putting 61 points up on the scoreboard one could probably guess that their statistics were off the charts. Which they were.
In this week's matchup of Ferris Fantasy Football, I got demolished. My quarterback was lackluster, my running back got hurt, my number one wide receiver and my defense lost me points, and my opposition was unbelievable. I might have to start two QB's if Jason Vander Laan and the Ferris State offense keeps putting up the numbers they did in Saturday's romping of GVSU.
Jason Vander Laan had as many points as my ENTIRE TEAM. I might have to start writing these under an alias if next week is as bad as this week. I may lose all credibility after this week, but I really hope the rest of them aren't this bad and that our Editor in Chief, Keith, still lets me put this in the paper for at least a couple more editions of the Torch.
Anyway, here are my picks for the upcoming week. It's up to you whether or not you want to take these into consideration in your own leagues.
QB: Tom Brady, New England Patriots – Whether the ball is fully inflated or not in week 3, I expect Brady to have a good outing against the Jaguars.
RB: Matt Forte, Chicago Bears – Forte is a big dual threat back who can score on the ground or catch passes. Hopefully he gets one of each next week.
WR1: Odell Beckham Jr, New York Giants – This guy is fun to watch and Eli Manning likes throwing the ball his way. He should have a big night against Washington on Thursday.
WR2: Julian Edelman, New England Patriots – I'm going to try to double dip here and hope that Brady throws most of his touchdowns to Edelman like he did in week two.
FLEX: Jordan Matthews, Philadelphia Eagles – The Eagles looked awful last week against Dallas. About as bad as my lineup was last week. I think they'll turn it around with some help from Matthews against the Jets.
D/ST: Buffalo Bills – This is a tough one. The Bills play the Dolphins who are typically a feast or famine team. They either put up big numbers or sputter on offense. I'm hoping they sputter.
K: Justin Tucker, Baltimore Ravens – He's a good kicker on an offense that has relied on him heavily in the first two weeks.