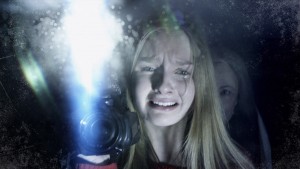 I'd like to say the newly released horror movie The Visit was terrifying, frightening or bone-chilling, but really the only word I can use to describe it is scary, and not in its intended way. I had high hopes for this movie based on the trailer that shows a grandmother suggesting her granddaughter get inside an oven. But even after having a few at FAC, I found myself ready to leave The Visit within the first half hour.I can't say I didn't enjoy a few aspects of the movie. M. Night Shyamalan, the movie's director, does not disappoint with his signature plot twist. Also, there is an awesome scene where the two grandkids are chasing each other under the porch and the grandma appears in full beast mode to kick off the startles.
Last week, I watched The Karate Kid with Jaden Smith and I said to myself, "Wow, as far as acting goes, you can't get much worse than Jaden Smith." But I was proven wrong with The Visit. Ed Oxenbould, who plays the grandson Tyler, delivered the most cringe-worthy parts of the movie when he attempted to rap. The whole idea behind him rapping is that the terribleness makes it funny, but the raps were so irritating and stomach-churning that the entire movie was nearly derailed the moment he delivered his first line. I will definitely not be purchasing his mixtape.
The Visit makes for a good alternative to running into your old roommate at Shooters on Saturday night, but don't make a night out of it. Given the choice between entering an oven or buying this on DVD, I might consider spending a few minutes in the oven.