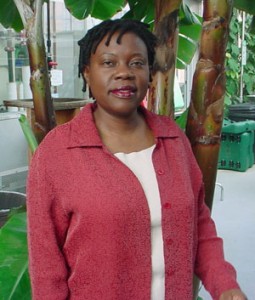 Minds Aflame is quickly approaching and one Ferris professor seeks to share her knowledge of globalization to help students.
Dr. Olukemi Fadayomi, a speaker for the Minds Aflame series, has been working at Ferris for 28 years. She was recently invited to become a member of the Peer Corps as a reviewer for the Higher Learning Commission.
Fadayomi is passionate about globalization and hopes many students will learn how it impacts their lives.
"I look at globalization as some kind of intersection for our being," Fadayomi said. "It touches every aspect of mine and everybody else's lives. When you ask people about globalization, people think economies and politics, but it is holistic. It encompasses everything."
Born in Nigeria, Fadayomi received a B.S. in biology from East Texas Baptist University, an M.S. in biology from Stephen F. Austin State University and a Ph.D. in biology from North Texas State University.
She was hired by Ferris in 1987 to teach medical parasitology after her postdoctoral experience at the National Institute of Health. Her research interests are parasitic infections of the immune system.
Fadayomi looks forward to her new role as an educator with the Higher Learning Commission.
"It fits into everything I do," Fadayomi said. "I will continue to provide opportunities for our students to be trained globally. I was looking for a platform that would allow me to speak to students beyond Ferris' walls."
"My goal, as always, is excellence in teaching and training the next generation of globally conscious individuals," Fadayomi said. "As a reviewer for the Higher Learning Commission, I am able to see what other individuals are doing. By attending various institutions and seeing what is working for them, I will be able to share that with the Ferris community."
Fadayomi is currently the chair for the University Curriculum Committee, and is focusing on how to change the curriculum to better meet the needs of the next generation of students. She is able to see what employers are looking for and implement them on Ferris' campus, making students more employable.
"This is an exciting time to be a student at Ferris," Fadayomi said. "I'm just happy to be a part of it."
Minds Aflame will take place on Tuesday, Sept. 29, in Williams Auditorium from 5:30-8:30 p.m. For more information on the Higher Learning Commission, go to www.hlcommission.org.