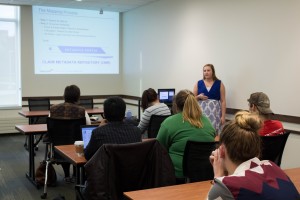 Students in the business data analytics program at Ferris State University started a registered student organization (RSO) this semester.
The RSO is called Data Analytics Association (DAA) and according to Megan Speese, a senior in business data analytics and the vice president of DAA, the drive to create this organization at Ferris came from the lack of knowledge about data analytics and the opportunities it offers for all students.
"The workforce right now is very data driven — 2.5 quintillion bytes of data are created every day," said Tiffany Shack, a junior in business data analytics and the president of DAA. "Managing the data and knowing what to do with it is what this organization is about."
Data are not just numbers, but also words and any type of recorded information.
According to Shack, applying analysis to data is when data becomes real information that people can use, which is the purpose of DAA.
"Data analytics is the fastest growing field today," said Speese. "Data are everywhere. People who know how to turn it into information are in high demand and have high chances of being hired after college and DAA wants to help you learn about this promising field."
Ferris is the only school in Michigan that offers a business data analytics program, even though it is an emerging field with an extraordinary promise of growth.
"My favorite thing about this organization is that the people are really great," said Shack. "It's an interesting area because right now, since we're new, it's just people in our major and a few others. But everyone is a people-person, so it's fun."
DAA is a great place to meet other people in a professional and fun way, but it's not just about the fun. It's a new organization with great goals and hopes of accomplishment.
DAA members plan on volunteering on and off campus, hosting events with other student organizations, attending data conferences, working on data projects for Ferris and other local businesses and having social events for members.
"We really want to emphasize the social aspect of being in an association," said Speese. "By building these relationships, we will be able to better understand the wants and needs of students to help cater meetings and events to them."
The organization hopes to gain membership with people from different majors.
According to Speese, DAA members want to fulfill the needs and wants of students as well as the members of the community. Data analytics is one of the fastest growing careers and being able to add a data-mining certificate to any major could vastly improve your chance of being hired after college.
Data Analytics Association meets every other Thursday in UC 211 at 6 p.m.