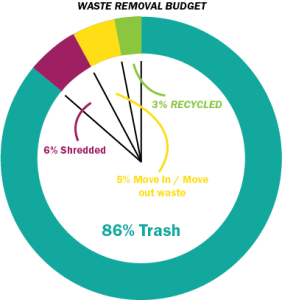 While most of Ferris' waste is thrown out, a growing number of students are taking it upon themselves to make a habit of recycling.
To promote recycling in the residence halls and campus buildings, Physical Plant recently added new recycle bins in Cramer Circle, Travis Circle, Lot 3 near Hallisy Hall, Lot 37 near the IRC, Lot 40 between Merrill Hall and McNerney Hall, Lot 61 near Brophy Hall and in Lot 63 behind the Music Center.
That makes a total of 13 recycling containers on Ferris' main campus. Smaller containers are becoming more and more prevalent in buildings across campus.
Yet, a Physical Plant poll shows 82 percent of Ferris students don't know where to recycle on campus.
"This is all culture," said Ferris custodial services manager Rafael Dominguez. "Recycling requires individual effort. It's up to you."
Physical Plant's data shows Ferris spends an average of $280,000 a year for waste removal, with 91 percent spent on trash removal and nine percent spent on shredding and recycling. Ferris spends five percent of the total budget on move-in and move-out weekend trash alone.
"It's just a tendency that if a trash can is closer, people will throw things away because it's the easy thing to do," said Nichole Boehnke, a Ferris journalism senior. "If we make recycling the easier thing to do, maybe students will start recycling."
Boehnke interned at the Physical Plant during the summer of 2014 under Dominguez, compiling research and information on recycling to share with students.
With Dominguez and the Physical Plant as clients, public relations senior Ashley Bradstreet implemented a university-wide recycling improvement plan as part of her capstone public relations class last year.
A major component of the plan was a "Zero Trash Move-In Day" for incoming students on Aug. 28. Students and custodial staff help with recycling efforts during the move-in and handed out t-shirts that read "I recycle, Do U?" The group successfully recycled almost everything possible.
Bradstreet and other student representatives also spoke in several FSUS classes educate freshmen on how and where to recycle.
"We really want to start with this freshmen class so they can carry recycling on throughout their time at Ferris," Bradstreet said. "Students should be excited about recycling and realize what a big impact they can make not just on the university, but on the environment overall."
Dominguez said with increased use of Ferris' recycling containers, waste spending could be diverted equally between trash and recycling at almost no extra cost.
"Then we would be better stewards and supporters of recycling efforts worldwide," Dominguez said. "To me it seems like a no-brainer."
Students in the Bulldog Sustainability Alliance also educate students on how and where to recycle. According to BSA secretary Adam Jandura, the organization will expand its efforts this year to collaborate with other groups and produce video content about recycling.
"Recycling is not the best on campus, but it is partially because people don't know what can be recycled," said Jandura, a third year pre-pharmacy student. "We hope to fix that through the knowledge of proper recycling."
The University Center recently received LEED Gold certification from the U.S. Green Building Council for having exemplary sustainability design. East Campus Suites and the College of Optometry are also certified LEED Gold. According to Dominguez, a major factor in receiving the certification was the UC's trash and recycling containers, which are made of 1,000 recycled milk jugs each.
For more information on Physical Plant's recycling efforts as well as where and what to recycle, visit the Physical Plant Facebook page by searching Ferris State Physical Plant – Sustainability.