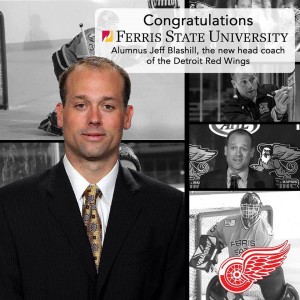 TRAVERSE CITY Ferris State graduate and Detroit Red Wings head coach Jeff Blashill is a little over a week away from his National Hockey League (NHL) coaching debut.
Blashill, who played goalie for Ferris State from 1994-98 and coached for the Bulldogs shortly thereafter, is finishing up coaching the last games of the preseason for the winged wheel before the team's season opener on Oct. 9 at Joe Louis Arena. Blashill and the Wings will face off against the Toronto Maple Leafs and former head coach Mike Babcock, who signed a contract with Toronto during this offseason.
Blashill is getting some solid productivity out of his younger players this preseason, some of whom he coached for the Grand Rapids Griffins.
As for what young prospects will be playing come regular season, Blashill said, "We've got a huge group of young guys pushing so it's hard to say will end up grabbing those spots. You know we've got eight exhibition games so we'll continue to evaluate."
The Ferris alum will be taking over a Red Wings team who has made the playoffs the past 24 years and looks to keep that going in the 2015-2016 campaign.
Coach Blashill says he has a large pool of players to choose from during the team's preseason games and will utilize as many as possible to get everyone reps and make sure the team isn't too worn out when the regular season rolls around.
"It's a little bit easier for the players because you're almost dealing with two full teams. We're going to have more than two full teams in Detroit, so we'll have enough to space those games out. It will really only be four [games] at max really for most of the guys, maybe five, sometimes three so we'll manage that part of it. I think guys have been around and know what they need to do to be ready so I'll lean on them a little bit on how many they want to play so we're sure that they can come into game one ready to go," said Blashill.