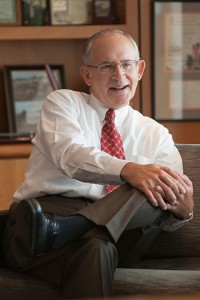 What would you do with a surprise $18.6 million?
An accounting oversight by a state retirement program resulted in Ferris State University being refunded $17.3 million with another $1.3 million on the way, President David Eisler recently announced.
"With this unexpected additional resource, we are poised to make a positive difference for our students," Eisler said in a university-wide notice. "This is a very exciting and welcome development."
During an internal review, Michigan's Office of Retirement Services discovered the Michigan Public Schools Employee Retirement System (MPSERS) has been receiving overpayments by Ferris for its pension fund since 1997. Ferris received the overpayment through the end of 2014 plus interest accrued, totaling $17.3 million. At the end of the fiscal year, another $1.3 million is expected for overpayment in 2015.
"With this opportunity, I believe in the strongest possible way that we should use these funds to help our students, who need more scholarship and financial support," Eisler said. "We can and should put this refund to work to help our students not just today, but tomorrow and into the future."
Ferris English major Jessica Barger agrees the money should be used to reduce student debt.
"It should definitely focus on the students that are paying to go here," Barger said. "It's middle class people that are out of the tax bracket where they can't get a lot of help unless they really fight for it. Even if they do well it's nothing compared to tuition and food bills."
La Shai Watson, a pre-respiratory care major, had more specific ideas for how to spend the money.
"I would really love digital display boards in the residence halls" Watson said. "They would make things easier for the RAs and would look a lot better. Also, I think they should reopen a place to eat on the west side of campus."
Marc Sheehan, communications officer for Eisler, said the focus of spending the refund will definitely be on students; it's just a matter of how.
"To say that the refund was a surprise is an understatement," Sheehan said. "The question is, what's the right mechanism to reduce student debt? There's going to be continued discussion about how things will play out."
Sheehan mentioned an endowment fund for scholarships and the price of tuition as considerations. Ferris' board of trustees, however, must approve any spending decision.
One use for the funds enacted immediately by Ferris was the placement of $837,000 into the Ferris Foundation for student scholarships to be awarded next year.
Six other Michigan universities also received sizable refunds from the state.