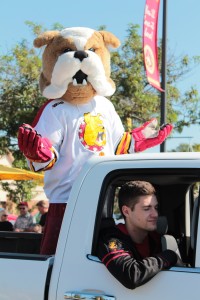 Homecoming is the most anticipated week of the fall semester for some students.
This year's homecoming week was a (mostly) successful string of events to get students in the spirit for the semester ahead.
The week would have kicked off with the Live United Color War and 5k on Sunday, Sept. 20, but the event was postponed due to the weather. This event is expected to be rescheduled post-homecoming week.
The fun started with the Lip Sync Competition on Monday in Williams Auditorium. Several sororities, fraternities and other student organizations participated in the contest, dazzling the crowd with their different routines. The event had a Broadway theme and featured songs from classics like "Grease" and "Hairspray."
Tuesday was opening day for royalty voting on OrgSync, but also featured a kickball tournament in the evening. Students formed teams from their organizations to compete in the tournament, which took place on Top Taggart Field.
Wednesday brought some serious hype to campus as Bo Burnham took the stage at Williams Auditorium for the homecoming comedy show.
Ryan Fouts, a junior in computer information technology, attended the comedy show.
"I really liked it, but I'm kind of biased because I love him," Fouts said. "He sang some songs and did his usual satire stuff that normally people wouldn't make fun of. He also makes gay jokes and things like that, and normally I would be like, 'that's terrible,' but I understand that it's just comedy. That's half of comedy — going to those extremes."
Fouts said that compared to past homecomings, this year's was better than usual.
"My past two years, I didn't really care about it much," Fouts said. "I'm not really interested in the Lip Sync, so that's always been kind of boring, but I like the comedian and the football game. I wish people paid more attention to the little things though, like Spirit Day. I think somehow we need to get people more involved. I think the homecoming committee does everything it can, but people just don't hear about it."
Thursday held the Carnival and Dawg House Competition in the North Quad. The carnival brought a small crowd to the Quad and games and food were offered.
Andrea Harthorn, a music industry management senior, was a volunteer for the carnival. She also attended the Lip Sync event, and said she enjoyed it.
"It was my first time going," she said. "It was fun."
Harthorn said that she would have liked to have attended Bo Burnham's show as well, but didn't get out of class in time to get a ticket.
"It's awesome that they brought a big name, but maybe have a space big enough for the people who would want to go to the big name," Harthorn said.
Friday brought a gathering at Lot 61 for the homecoming bonfire before the final and main events — the homecoming parade at noon in downtown Big Rapids and the football team beating the Saginaw Valley Cardinals at 2 p.m. on Saturday.