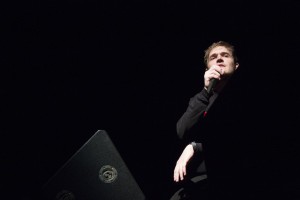 Wearing a Ferris State University crew neck, Bo Burnham rocked a full house in Williams Auditorium for the Homecoming Comedy Show.
"This is a beautiful campus, nice people," Burnham said in a post-show interview. "We had some fun."
Not unlike a Ferris student, the 25-year-old comedian and best-selling poet spent his Wednesday afternoon wandering about campus with headphones on and a book in hand. After lunch at the Quad Cafe and a stop at the bookstore for some Ferris merch, Burnham retreated to Williams Auditorium, where hundreds of eager students were already waiting in line for a ticket.
The line for tickets began to form around 10 a.m. Wednesday morning. Ferris music industry management freshman Jacquelyn Lovely was first in line.
"I've been a huge fan of Bo's since I was in middle school," Lovely said. "I freaked out when I found out he was coming to Ferris."
"The students were super excited," said Bryan Hinrichs, comedian chair for the homecoming committee and music industry management senior. "As soon as Bo came onstage and everyone cheered, it felt awesome."
Having started the planning process for homecoming in May, Hinrichs noted the show was the culmination of a lot of hard work.
The show began with a quick set from Los Angeles-based comedian Brandon Wardell, who frequently tours with Burnham.
Screams and cheers filled Williams Auditorium when Burnham took the stage. After powering through a brand new hour of songs and stand up, Burnham closed the show with his song, "Oh, Bo," with the audience chanting along.
Burnham will continue his U.S. "Make Happy" tour until the December taping of his new comedy special.
For a Torch exclusive video interview with Bo, click here.