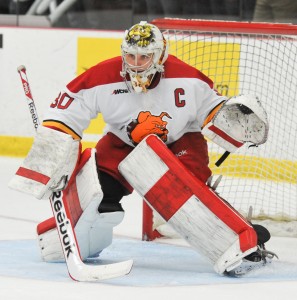 Taking over for a Hobey Baker finalist and the winningest goalie in Ferris history sounds tough, but that is the task that lies ahead of Charles Williams.
Williams, of Canton, Mich. was granted a medical redshirt last season because of an injury to his achilles tendon, but he is ready to go for the 2015-2016 season. Filling the skates of C.J. Motte is a tall task, and Williams knows how good of a player he will be replacing this season.
Williams wasn't taking time off during his injury, he was too busy learning from his predecessor.
"I was able to take the time to learn and take notes, like I said learn from his [Motte's] game and all that he did at Ferris," said Williams. "The biggest thing he taught me was just holding your composure no matter what happens just not getting too high and not getting too low. Just staying mellow and staying humble and being ready to play."
Before coming to Ferris, Williams played in the United States Hockey League (USHL) and posted an impressive 20-4-3 record with the Lincoln Stars in 2011-2012. He averaged a 2.61 goals against average and upheld a .907 save percentage in his time playing for the Stars.
Williams didn't play in any games last year and was playing backup behind Motte in the two years before that. In the 2013-2014 season, Williams started just three games and put together a record of 1-2 with his single win coming in shutout fashion against Michigan Tech.
That shutout on Jan. 25, 2014 was the last time Williams played in a game wearing a Ferris jersey.
"I'm very excited, I had a talk with coach about just seeing game action. I haven't seen game action in a while, so I'm looking forward to this upcoming scrimmage at the Crimson and Gold game, just to get back into it and get my habits back and stuff. I'm really looking forward to it and I know it's going to be a good time," said Williams.
The offseason has been long and arduous for Williams because of the injury to his achilles. He said the most important thing he's been working on has been getting into game shape. Williams says he doesn't have any expectations for the season besides playing hard and taking it a game at a time.
The Ferris hockey team will play in the Crimson and Gold game this Saturday at 5 p.m. in Big Rapids, followed by an exhibition game against the University of Lethbridge (Canada) at 3 p.m. Sunday.
The Dawgs will start their regular season campaign on Oct. 9 and Oct. 10 against Western Michigan University. FSU will travel to Kalamazoo to take on the Broncos at Lawson Ice Arena at 7:00 p.m. both nights.