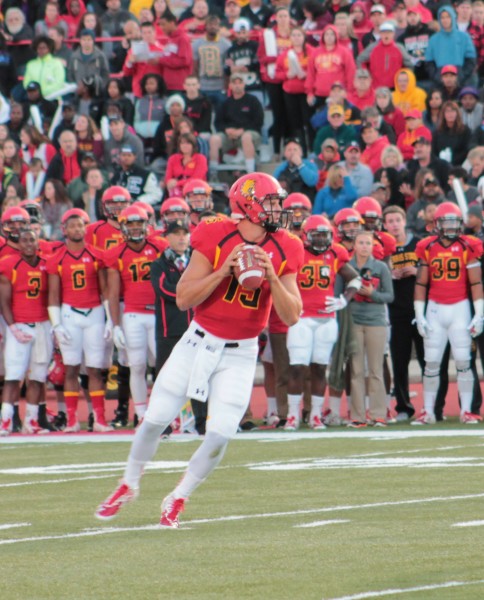 Despite cold and rainy game time conditions, the Bulldogs caught fire to come back from a deficit on the road and defeat Findlay 42-39.
The win improves the Bulldogs' record to a flawless 4-0 on the season, and stretches their regular season winning streak to 19 consecutive victories starting at then end of the 2013 season.
For a time, things were looking grim for the Bulldogs, as the Oilers scored three of the first four touchdowns of the afternoon. The Bulldog defense couldn't seem to come up with an answer for the lengthy drives that Findlay was able to engineer in the opening stanza of the game. In the first half, the Oilers were a perfect 4-4 in converting fourth downs for a fresh set of downs.
Ferris went into the locker room trailing 14-28 with a mission on their mind, and they came roaring into the second half to turn the tides. After exchanging points with Findlay early in the third quarter, the Dawgs took off scoring three unanswered touchdowns to take a 42-31 lead. Findlay would orchestrate one final touchdown drive, but it would prove to be insufficient allowing the Bulldogs to bring home the win.
Senior quarterback Jason Vander Laan was a workhorse on the ground, racking up 29 carries and using them to gain 157 yards and four touchdowns. Never one to be called a one trick pony, Vander Laan also threw for 201 yards and a pair of touchdowns, both of which were caught by fellow senior Jake Lampman.
The Bulldog defense accounted for seven tackles for loss, pushing the Oilers back a total of 63 yards. Two of these tackles in the backfield were sacks courtesy of sophomore defensive end Justin Zimmer, who wrapped up 12 total tackles on the day.
The Bulldogs escaped Donnell Stadium with a win, but will be tasked with spending
another weekend away from home next week when they take on the Tiffin Dragons. Kickoff in the GLIAC matchup is slated for 1:30 p.m. on Oct. 10.