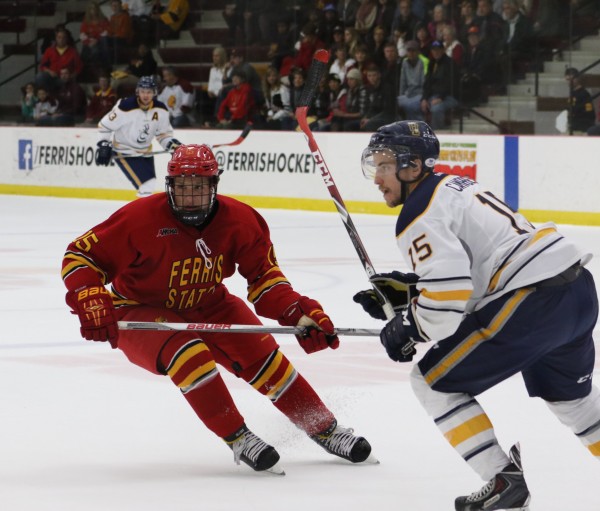 In the Bulldogs' first action on the ice against an enemy jersey, they brought down the University of Lethbridge Pronghorns 3-2 in exhibition play.
Bulldog captain Kyle Schempp had the pleasure of scoring the first goal of the season for the Dawgs, as he netted a goal midway through the first period with the help of assists from freshman defenseman Ryker Killins and junior forward Gerald Mayhew.
Ferris State would further stretch the gap early in the second period when junior forward Chad McDonald scored with assists by sophomore forward Mitch Maloney and Killins, who earned his second assist in as many periods.
The lead would not hold for long, as the Pronghorns scored a quick pair of goals within 30 seconds of each other to knot the score at 2-2, which would hold until the end of the second period.
Ferris sophomore forward Tyler Andrew would be the next to find twine, as his shot hit home at the 8:20 mark in the third period. Sophomore forward Drew Donates and freshman forward Corey Mackin served as wingmen for the assist.
The 3-2 lead seemed to be in jeopardy for a time, as junior defenseman Ryan Lowney was whistled for tripping on a breakaway, thus setting up a penalty shot for the Pronghorns. However, Ferris junior goaltender Charles Williams deflected the ensuing shot, allowing everyone to breathe a sigh of relief.
McDonald would score his second goal of the night soon after on an open net to seal the 4-2 victory.
Ferris State will hit the road for their next game, as they head to Western Michigan on Oct. 9 before hosting the same WMU squad on the following day at home in Ewigleben Arena. Interestingly, Lethbridge defeated Western 4-3 the day before being beaten by the Bulldogs. Puck drop in the first game of the series is scheduled for 7 p.m. in Kalamazoo, MI.