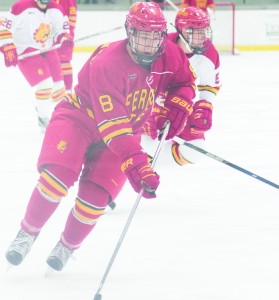 After a premature ending to last year's season in the WCHA Tournament at the hands of Minnesota State (score 4-0), the Ferris State Hockey team is reloaded and ready for another great season.
The Bulldogs had a rough season in their second year (2014-2015) being in the WCHA after winning the conference title a year before. They posted a .750 winning percentage in the first year of joining (2013-2014) but dropped below .500 last year in conference (ranked fifth in conference).
This record was partially a result of a slump that is unprecedented in the last five years for Ferris State. They lost 11 out of 13 games during this stretch including four to Minnesota State.
Since Ferris State has been apart of the WCHA, they have never beaten Minnesota State. A rivalry needs wins on both sides to be relevant and senior defensemen Simon Denis believes they are more than ready.
"From our point of view, Minnesota State is our biggest rivals. We see the success that we've had and we see where we need to go to get there again. We can get championships. We can get rings," said Denis. "We're confident in our team and we know we can go out and play and beat them."
Simon Denis is a part of a group of senior defensemen including Zach Dorer, Brandon Anselmini and Sean O'Rourke that look to dominate.
"We know we can shut teams out. We can shut teams down," said Denis.
This defense was put on display in the annual Red and Gold Game for Ferris State this past Saturday. In their first live action of the season, both squads had struggles scoring. It wasn't for a lack of offensive skill or offensive movement. Shots were constantly flying off defender sticks.
Neither team scored a goal until the starting goalies came out.
Of course a key part of defense is the man in goal. CJ Motte was the man for the last few years and graduated this past year. Motte had 965 career saves with a save percentage of .927.
This is definitely a big net to fill and redshirt junior Charles Williams looks to be the man for the job.
At the other end of the ice, the Bulldogs have many weapons returning including junior Gerald Mayhew, junior Jared VanWormer, senior Kenny Babinski, and the team captain Kyle Schempp.
Schempp was drafted by the New York Islanders in the sixth round (155th overall) of the 2014 NHL draft after a freshman season that earned him Rookie of the Year honors for the WCHA (10 goals, 25 points). He is the only Bulldog to ever gain this honor.
The junior out of Saginaw, MI is only one of four ferris players to get drafted in the last 15 years.
Although he is able to leave Ferris and join the NHL after this season, Schempp says he's going to "ride out" his college career.
He said, "Two years ago we got a taste of the national tournament and that's where we want to be again. These goals drive us and motivate us. We've got a solid defensive core and a bunch of guys returning. It's gonna be a good season."
The Bulldogs open up regular season action against Western Michigan this weekend.
"I'm really excited to play Western. I know it used to be a rivalry a few years ago and I'm just ready to get out there," Schempp said.
The game will be away on Friday Oct 4 in Kalamazoo, MI at 7 pm followed by a second game the next day in Big Rapids at 7 p.m.