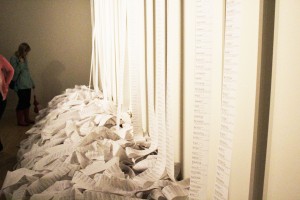 You know what gets me excited about West Michigan? Our seemingly endless love for art. The art never stops and if you are an avid art lover like me, you need to check out ArtPrize.
In the beautiful city of Grand Rapids, every year, is the art competition that has grown into something larger than itself. With over 200 venues and artists from all over the world, it's amazing how something like ArtPrize originated in West Michigan. This competition has gotten so large it is starting to branch into other parts of the country. There is now going to be an ArtPrize in Houston in 2016.
I love all art and it is often hard for me to pick a favorite piece or venue. This year, the B.O.B. has some really neat things to see and was probably my favorite venue. An artist made life-like statues of Angelina Jolie and Tom Cruise out of crayons on the second floor. Yes, Crayola Crayons. Why didn't I think of that?
Also on the second floor, Todd and Brad Reed Photography of Ludington had their newest book "Todd and Brad Reed's Michigan: Wednesdays in the Mitten" and large prints of pictures from their book on display.
To me, it is amazing that this competition can draw so many artists from all over the world, but also have amazing pieces from right here in West Michigan. One popular piece that was also displayed on the second floor of the B.O.B. was "MicroDoodle Calder" which was a neat picture of Grand Rapids' Calder, but when you got close with a magnifying glass, you can see a bunch of small detailed pictures.
One of my favorite pieces I've seen so far this year was probably "Whisper" at 250 Monroe Avenue. It's a long table that looks like it's ready for a big dinner party. When you get closer you see that the tableware is all over the place and broken. There is a microphone and when you whisper into it, it makes the table vibrate and makes the tableware move and break. It's a captivating piece.
Whether you like art or not, the city of Grand Rapids is still a sight to see. It's only 50 minutes from Ferris' Big Rapids campus. You will never get to witness such an awesome event or city., so I recommend going while you can. Did I mention ArtPrize is free? The event runs until Oct. 11.