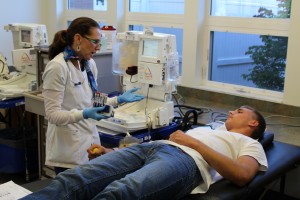 Every two seconds, someone in the United States is in need of a lifesaving blood transfusion. That is more than 41,000 people every single day. Last week, students at Ferris made a dent in that demand by donating blood.
The blood drive, hosted by the American Red Cross, took place at the West Campus Community Center last Thursday. According to blood drive supervisor Chris Stafford, 33 pints of blood were collected with 31 pints usable.
"The goal was 32-35 pints, so it was a good day," Stafford said.
Nearly 40 percent of the U.S. population is eligible to donate, while only about 10 percent do each year.
"I found out that I have O negative blood and everybody needs O negative, so why not?" said Ferris criminal justice student Pandora Kurtz. "That's the only blood that everybody can have. The thing that sucks is that we can only
receive O negative."
In fact, only seven percent of the population has O negative blood and they are known as universal donors because their blood can go to anyone in need. O negative blood is in high demand specifically for this reason. It is often
used in emergency situations when there isn't time to determine a patient's blood type.
Student Government President Wayne Bersano claims to have donated a gallon of blood by his freshman year in college. "You can save up to three lives when you donate blood and if I was in a situation where I needed blood, I wouldn't want there to be a shortage," Bersano said.
"So if I can help someone out, that's what it's all about." The American Red Cross will be hosting three more blood drives at Ferris this semester. The blood drives will take place at the West Campus Community Center on Thursday, Nov. 5 from noon to 6 p.m., Wednesday,
Nov. 18 from 11 a.m. to 4 p.m. and Thursday, Dec. 10 from noon to 6 p.m. To sign up or learn more about the American Red Cross, you can visit redcrossblood.org.